British Art Show 8 arrives in Edinburgh with new and expanded works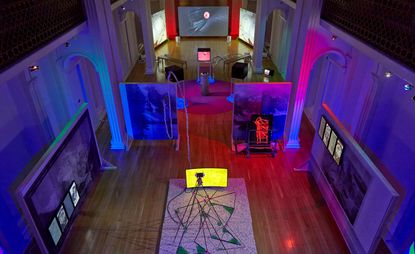 (Image credit: Chris Park)
The eighth edition of the quinquennial British Art Show (BAS8) has landed in Edinburgh, revealing a bigger and bolder programme following its debut at Leeds Art Gallery in October last year.

The latest outing of the touring exhibition is being staged across three historic venues including Inverleith House in the Royal Botanic Garden Edinburgh; Scottish National Gallery of Modern Art; and Talbot Rice Gallery at the University of Edinburgh. Curators Anna Colin and Lydia Yee have envisioned the trio of exhibits as self-contained shows that form a relationship with one another.

Ryan Gander's installation Fieldwork (2015) – a new addition to the touring exhibition – takes pride of place at Talbot Rice Gallery, where his personal objects revolve endlessly on a conveyor belt, visible only through a compact viewing window. Nearby in the same venue, Benedict Drew has moved into the lofty Georgian Gallery with a newly expanded video installation.

Elsewhere, artist duo Broomberg & Chanarin bring a breath of fresh air to the Scottish National Gallery of Modern Art with a full-scale airplane propeller, in the installation Dodo (2014). It's the first time the work – which is based on the Hollywood version of Joseph Heller's satirical WWII novel Catch-22 – is being shown in the UK. Laure Prouvoust's audio work is also bolstered here, inhabiting an entire gallery in the venue.

Over at Inverleith House, Jesse Wine has unveiled a freshly commissioned series of ceramic sculptures, hung from the ceiling in the Victorian Palm House at the Royal Botanic Garden; while Pablo Bronstein takes cues from the Industrial Revolution with a wall work featuring images of machinery.

BAS8's next pit stop will be Norwich at the end of June, before its final leg in Southhampton in October.
INFORMATION
BAS8 runs until 8 May in Edinburgh. For more information and touring dates, visit the British Art Show website