All wrapped up: Bikini Berlin celebrates the art of gift wrapping with Stills & Strokes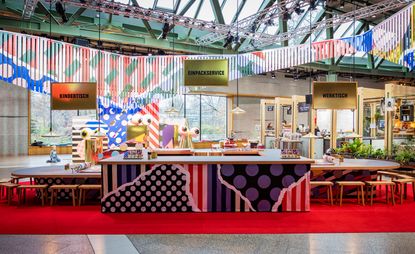 (Image credit: Berlin Bikini)
Housed in a revamped 1950s office building in west Berlin's Charlottenberg neighbourhood, Bikini Berlin has been enthusiastically championing a design-led mix of hospitality and retail since its opening in January of 2014. In the shopping mall that snakes between the original orthogonal post-war buildings that house the hotel and offices, a carefully chosen community of independent local makers as well as coveted designer brands inhabit raw concrete shop spaces and pop-up shops.

Over in the adjoining hotel, run by German group 25 hours, 149 bedrooms, a rooftop restaurant and relaxed lobby space are furnished with house plants and hammocks – a scheme developed by the studio of German designer Werner Aisslinger that references the hotel's neighbouring city zoo.

As Berlin gears up for December and the influx of visitors that descend upon the city's Christmas markets, Bikini Berlin has taken a typically unique approach to the festive season with the introduction of a festive wrapping station in the heart of its shopping mall. Dedicated to the 'art of wrapping', the station comes courtesy of art director and illustrator Melanie Homann and photographer Stefan Vorbeck of Berlin studio Stills & Strokes.
Known for their distinctive use of colour and pattern, the duo have marked out the dedicated gift wrapping space with an angular architectural set made up of over 40 metres of specially designed paper. In the centre, a communal table provides a place for visitors to dress up their art gifts in one of the studio's three custom designed wrapping papers.

Revolving around glossy gold parcels, some brought to life with cartoon eyeballs, the papers feature still life compositions that layer the gold parcels with polka dots and stripes of varying scales and contrasting colours. 'We loved Stills & Strokes' alternative take on Christmas,' says David Kemmler of Kemmler Kemmler, Bikini Berlin's in-house creative agency, who conceived and coordinated the wrapping station concept. 'It's warmer, it's more contemporary and is a great match for Bikini Berlin's contemporary architecture.'

Going forward, each year Bikini Berlin plans to invite a new artist to design a different wrapping station and new set of papers that will redesign Christmas and the art of wrapping all over.
Bikini Berlin's in-house creative team installed a long table featuring multiple communal wrapping stations where shoppers have the opportunity to gift wrap their purchases in-store using the paper
INFORMATION
For more information, visit the Bikini Berlin website
ADDRESS
Bikini Berlin
Budapester Strasse 38-50
10787 Berlin