What's next for Azerbaijan's flourishing art scene?
As Azerbaijan's art scene blossoms, we explore its rapid creative renaissance, and what lies ahead. Plus, the best contemporary art galleries in the capital, Baku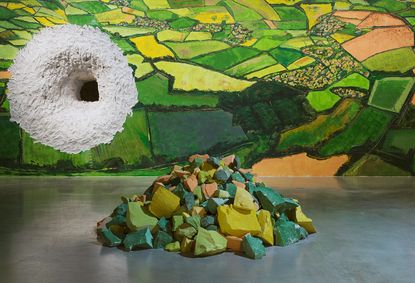 (Image credit: Pat Verbruggen)
Wallpaper* Newsletter
Receive our daily digest of inspiration, escapism and design stories from around the world direct to your inbox
Thank you for signing up to Wallpaper. You will receive a verification email shortly.
There was a problem. Please refresh the page and try again.
Having only emerged from more than 50 years of communist rule in 1991, Azerbaijan has spent the last 25 years redefining itself. Gentrification has been rapid, especially in the past decade, and in the capital city of Baku, a skyline of ambitious architectural projects has sprung up among the austere Soviet-era housing blocks, while designer boutiques dot the city centre and Azerbaijan art turns heads around the world.

While much of this petrodollar-funded gentrification is only surface deep – accusations of corruption and human rights abuses still swirl around the current government – in among the glitz, a burgeoning contemporary arts scene is taking root. On Baku Boulevard, which swoops around the city's crescent moon-shaped harbour overlooking the Caspian Sea, there are a number of extravagant museum buildings and cultural institutions. Among the more bold architectural offerings such as the Carpet Museum and the acclaimed Azerbaijan World Expo pavilion, is Yarat Contemporary Art Centre, one of the city's blossoming arts organisation.

Housed in an unassuming 2000 sq m converted Soviet-era naval building, Yarat – meaning 'create' in Azeri – is a not-for-profit, non-governmental contemporary art organisation that was set up by young artist Aida Mahmudova in 2011. Mahmudova – a 36-year-old graduate of Central Saint Martins and the niece of Azerbaijan's First Lady, Mehriban Aliyeva – has spent the past seven years using her connections in society to champion Azerbaijani artists both locally and internationally.
As well as the Art Centre on the Boulevard, Yarat also operates the Artim Project Space – a gallery dedicated to showing experimental work by emerging Azeri artists, and Yarat Studios, where it runs a residency programme for international and local talents. In addition, Yarat has also established the more polished Yay Contemporary art gallery, and runs an extended educational and public programme that encourages the community to engage with contemporary art.

'What's really exciting is that the next generation of artists that we are working with are equally balanced between male and female,' says Yarat's newly minted artistic director Suad Garayeva-Maleki, who took over from Belgian curator Björn Geldhof earlier this year. 'The previous generation were nearly all male. In a patriarchal society, women in Azerbaijan feel like they need to prove themselves to society, their families and peers. As this generation grows up, I think there will be more females in leadership positions.'

Leading the way was Mahmudova herself, who last month, seven years after founding the organisation and three years after establishing the Art Centre, opened her first solo show at Yarat. 'It's a very exciting and emotional moment,' says Mahmudova, who tries to keep her work as an independent artist separate from her role as founder of Yarat. 'The space is very large with its vaulted ceiling so it is a new experiment in scale for me; this compelled me to expand my horizons in terms of considering what might be possible.'

Occupying the entire top floor of the exhibition space, the show included a monumental textured wall work that resembled a green patchwork of fields. Nearby a series of cube-shaped sculptures made from thick layers of resin, stone and pigment appear like cross-sections of colourful stratum that have been pulled from the earth's crust. The exhibition was completed by a set of crumbling pillars in the centre of the room that Mahmudova says are intended to create a feeling of a 'transient place, half ruined and half built... one is reminded that entropy is an essential step of creation.'

Curated by Garayeva-Maleki, the show marked a new chapter in Mahmudova's work. 'I always experiment with new media in my painting and now sculptures. The process of working with my hands and observing the interrelations between various materials is something very therapeutic and deeply analytical for me. So for this show I ventured more into a sculptural aspect of my work and the materiality of it was largely dictated by that.'
Downstairs, a show of work by Italian artist Michelangelo Pistoletto is drawing in crowds while also reaching out into the community. One of the works – a papier mâché sphere made using Azerbaijani newspapers will be rolled along Baku Boulevard at the close of the show. The performance called Scultura da Passeggio (Walking Sculpture), is a recreation of Pistoletto's seminal Walking Sculpture performance in Turin in 1967.

'In a country where there isn't a tradition of visual arts, we want to get people to understand that art is very much about engagement in and with society,' says Björn Geldhof, the exhibition's curator. 'Pistoletto is the perfect artist for this.'
The best contemporary Azerbaijan art galleries in Baku
Heydar Aliyev Center
Built in 2012, Zaha Hadid's swooping design for the Heydar Aliyev Center is considered to be one of the architect's greatest realised buildings and a symbol of modern Baku. Inside the curvaceous cultural centre, visitors will find an auditorium/convention center, a museum, exhibition halls and administrative offices.

1 Heydar Aliyev Prospekt, Baku; tel: 994.12 505 60 01; www.heydaraliyevcenter.az

Yeni Gallery
Meaning 'new' in Azeri, Yeni was set up in 1986 by a group of emerging artists (known as the Association of Creative Youth of Azerbaijan) who wanted to create an independent space to showcase their work. Over the years the gallery has established itself as cultural hub in the city providing a platform many young artists, photographers, architects, composers, vocalists and poets.

Aziz Aliyev St, Baku; tel: 994.12 598 45 98

Baku Museum of Modern Art
The Baku Museum of Modern art's collection of 800 works spanning over 70 years focus primarily on works by Azerbaijani painters and sculptors who were working in the second half of the 20th century. Interestingly, the museum's all-white, Jean Nouvel-designed building eschews the typical museum layout of ordered halls and square rooms, and instead opts for open passages and walls that meet at different angles, creating a multidimensional perspective of the exhibits.

5 Yusuph Safarov, Baku; tel: 994.12 490 84 04; mim.az

The Museum Center of the Ministry of Culture of the Azerbaijan Republic
Housed in an imposing 1960s building that once served as the Soviet Lenin Museum, Baku's Museum Centre and Art Gallery was established in 1991 following the dissolution of the Soviet Union. As well as several Azerbaijani State Museums, the building also houses a modern art gallery on its fourth floor. Measuring 400 sq m and flooded with natural light, the space has hosted the first Baku photographic festival, and exhibitions dedicated to works by Polish architects in Baku as well as a solo exhibition by the famous Bulgarian artist Emil Stoichev.

49 Neftchilar Avenue, Baku; museumcenter.az
INFORMATION
For more information, visit the Yarat Contemporary Art Space website
ADDRESS
Yarat Contemporary Art Space
Bayil District (near National Flag Square)
Baku
Receive our daily digest of inspiration, escapism and design stories from around the world direct to your inbox