Art of Attraction photography exhibition, New York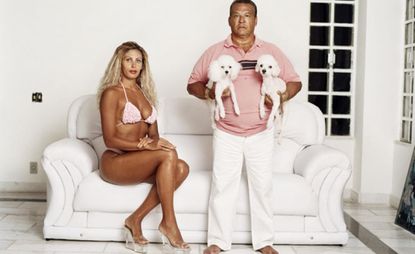 (Image credit: Zed Nelson)
Showcasing a mix of photographs that capture the themes of sexual desire and attraction, as well as highlighting other photographic works that look to document our global obsession with the unforgiving Western ideal of physical beauty, New York's recently opened Float Gallery (opens in new tab) is questioning the hazy lines of the rules of attraction, and giving us some tongue-in-cheek answers.
For some, it's all about the pursuit of a pair of perfectly modified breasts, for others, the need to achieve ultimate body symmetry and muscle tone - either way, the exhibition wants to talk about the extreme lengths some people take to be seen as physically attractive to the opposite sex, and how these have become resonant in more facets than just the obvious ones.
Zed Nelson (opens in new tab)'s
'Nose Job' for instance, shows a freshly-bandaged nose post-modification, sitting on the face of a Middle-Eastern girl who can't be more than 12 years old. Taken from Nelson's 'Love Me' series - which was photographed in 17 countries across five continents - the image, like others in the series, looks to question the results of how the notion of Western beauty has been perceived and exported abroad.
Other works not to be missed examine beauty and desire in relation to the documenter, like the more abstract photo-dialogue of Ellen Jong (opens in new tab)'s, taken from her 'Getting to Know My Husband's Cock', which journeys into self-discovery by transposing her own personal account of romance, ultimately giving the inhuman subjects she documents a sense of the body.
ADDRESS
F.L.O.A.T. Gallery
300 West 22nd Street
NY
NY 10011
VIEW GOOGLE MAPS (opens in new tab)