Small but perfectly formed, Art Brussels is packing a big punch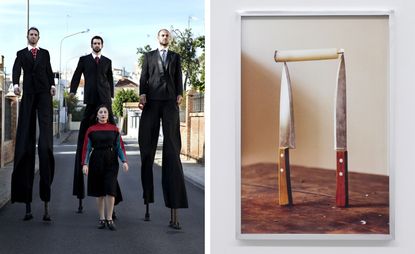 (Image credit: TBC)
There's nary an Anish Kapoor to be found at the 35th edition of Art Brussels. It's an unusual observation for such an established fixture on the art fair calendar – but Art Brussels has proven itself to be no ordinary fair. With only a handful of blue-chip galleries present, Art Brussels has carved out a role as one of Europe's leading discovery fairs, attracting collectors from countries further afield, including Australia and Turkey.

Bolstered by a fresh new visual identity by Base Design, Art Brussels has returned to the sun-drenched confines of an early 20th century customs house for the second year running. The quietly opulent Tour & Taxis building lends itself well to an art fair, eschewing the traditionally claustrophobic setting of a convention centre.

Bringing together 144 galleries from 28 countries, this year's edition sees a particularly strong outing from exhibitors in the Discovery section, which spotlights recently created work from lesser-known artists, including Erika Hock (Cosar HMT), Amadou Sanogo (Kristin Hjellegjerde Gallery), and Jean Denant (Galerie Anne de Villepoix).

In the main fair, Berlin-based Jahn and Jahn presents a particularly memorable diptych by Thomas Arnolds, while Cortesi pays homage to the square with works by Gianfranco Pardi, Enrico Castellani, and more. Dedicated to art from 1917 to 1987, the Rediscovery section brings under-recognised and forgotten artists to the fore, including Ryuji Tanaka (Axel Vervoordt Gallery) and José Pedro Costigliolo (Galería de las Misiones).

There's also an emphasis on individual presentations, with 15 galleries including Xavier Hufkens and Meessen De Cleroq presenting a single artist in the SOLO section. Other notable SOLO highlights include New York artist Steve Gianakos' twisted cartoons, staged by Paris-based Semiose; Josh Sperling at Brussels gallery Sorry We're Closed; and a phenomenal display of Niki de Saint Phalle by Galerie Mitterand. Meanwhile, Benoît Maire – shown by Meessen de Clercq – scooped this year's SOLO Prize, worth €10,000.

Elsewhere, exhibition maker Jens Hoffmann and curator/critic Piper Marshall have pieced together the fair's flagship project, a sort of Wunderkammer of 75 artists' mementos and personal curios. Jenny Holzer lured us in with her morbidly beautiful iron-meat hook; Joseph Kosuth shared a printed card signed by Hillary Clinton as a thank-you – a reminder, he says, 'of all that we lost in the US presidential election'.

At the Belfius Lounge, visitors can peruse a selection of works from the Belfius Art Collection, which comprises entirely Belgian artists. There's also a taster of the Belgian Pavilion ahead of the Venice Biennale, as artist Dirk Braeckman presents a large range of works from his Sisyphus (2005) series.

With 260 material fairs on the art world's calendar each year – virtual editions notwithstanding – the scene is crowded. It may not be as bombastically blue-chip as Basel, but Art Brussels is, quite refreshingly, a fair that doesn't leave you indifferent.
INFORMATION
Art Brussels runs from 21–23 April. For more information, visit the Art Brussels website
ADDRESS
Tour & Taxis
Avenue du Port 86C
1000 Brussels
Receive our daily digest of inspiration, escapism and design stories from around the world direct to your inbox