All that jazz: Berlin wall artist Thierry Noir celebrates the symbiotic relationship between art and music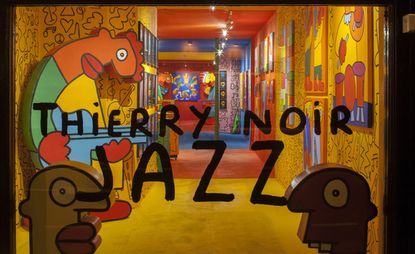 (Image credit: Thierry Noir)
When Thierry Noir finished painting the walls of London's Howard Griffin Gallery for his latest exhibition, 'Jazz' – a show which explores the synthesis between art and music – there wasn't an inch of space that wasn't drenched in colour or alive with pattern; full of speed, movement and discordance, just like a visualisation of the jazz music that inspired it.
Of course, an immersion in the expressive nuances of complex and fringe musical forms is nothing new for Noir. In the 1980s, the French street artist was part of a community of artists, musicians and free thinkers that also included David Bowie and Iggy Pop, who moved into West Berlin and were hugely influenced by its alternative music scene – from new wave and hip hop, to punk rock and jazz.

Through his distinctive, spontaneously painted characters, Noir became a forefather to the modern street art movement; most notably as one of the first artists to use the Berlin Wall as a canvas for his art in 1984, fragments of which can now be found in Berlin's East Side Gallery and in a New York City courtyard.

Since those early days, Noir has remained in Berlin, where his love affair with music continues. 'If I had not been an artist, I would have been a musician,' he notes. It is this inextricable bond between music and art that is the focus of his solo exhibition at Howard Griffin.

Here, brandishing musical instruments, his distinctive characters are painted in lurid, clashing colours upon canvases, on sculptural works and across the walls. Moving into 3D forms, Noir has worked with sculptor Chris Tsonias to create a series of playable musical instruments inspired by Noir's imagery that will complete the sensory experience. In the past, Noir has often referred to himself as 'the Picasso of the street' – a comparison that is perfectly clear to see here.
ADDRESS
Howard Griffin Gallery
189 Shoreditch High Street
London, E1 6HU
Receive our daily digest of inspiration, escapism and design stories from around the world direct to your inbox