Salone del Mobile preview: the Architects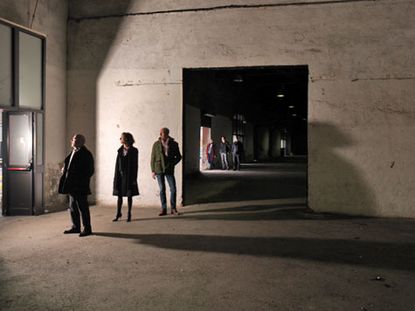 (Image credit: press)
Mario Bellini of Mario Bellini Architects

W*: Why do you live in Milan
MB: I was lucky enough to have been born here. It's a very special city that has supported my international success.
W*: What do you like most about the city?
MB: The undercurrent of energy that seems understated but actually attracts broad international creativity – particularly during fashion week and Salone del Mobile.
W*: Where do you go when you leave?
MB: The city and its surroundings offer infinite surprises. I have made and contiue to make hundreds of trips around the world – and have been to Japan 130 times!
W*: Do you stay in Milan for the salone?
MB: Leaving Milan during the Salone would be a ridiculously stupid thing to do.

W*: Three pieces of advice?
MB: Create a systematic plan—that's the only way to experience the infinite presentations, inaugurations and exhibitions throughout the city. Rent a small car, a driver if possible or a bicycle. Dedicate some time to the big official Fiera but also live within the city.

W*: Three favourite places?
MB: On the naviglio, the restaurant Al Pont de Ferre. A walk along the Duomo's gargoyles. Visit the Casa Museo Bagatti Valsecchi museum, the Museo Poldi Pezzoli and the Casa Museo Boschi .

Nathalie Jeanis a reputed architect who has recently made a foray into jewellery design
W*: Why do you live in Milan?
NJ: A friend of mine who worked at Sottsass Associates in Milan came over for the holiday and told me to come here.

W*: What do you like the most?
NJ: I like the quiet weekends, when everybody leaves for the mountain, the lake or the sea, and I can work undisturbed. I also love the quality, quantity and diversification of all kinds of workmanship in architecture, furniture, objects, jewelry and so many other fields.
W*: Where do you go when you leave?
NJ: I leave a lot for work, but I also love to travel to the East; Near, Middle or Far. I also have a little apartment in Paris and I am there about 10 days a month.
W*: Do you stay in Milan during the Salone?
NJ: Yes of course, having worked here in interior architecture and design for so many years, I now have friends coming from all over the world for the Salone.
W*: Three pieces of advice?
NJ: Get a car with a driver – it is very difficult to find taxis. Make a good selection of what is worth seeing beforehand and also while you're here. Of course, get invited to the best parties.
W*: Three favorite places?
NJ: The Museo Poldi Pezzoli on Via Manzoni. For the amateurs, I'd say a Modern Architecture - 20's to 50's - tour of Milan. Of course 10 Corso Como, which also happens to sell my jewelry!

Architect Piero Lissoni has been the Art Director at Boffi for 22 years
W*: Why do you live in Milan?
PL: I'm an atypical Milanese. I am hardly ever here because I travel constantly. I have a love hate relationship with this city. There is still a strong sense of vitality here and a sense of multiculturalism which is very important.

W*: What do you like most?
PL: When I leave, I miss the city's energy and I feel nostalgic for my breakfast – a cappuccino and brioche- at my favorite bar, il Bar Radetsky in Corso Garibaldi.

W*: Where do you go when you leave?
PL: I leave frequently for work: Tel Aviv, Miami, London, New York. When I go away for vacation, I go skiing, or I will go to my home in Tuscany.

W*: Do you stay for the Salone?
PL: Of course I do! it's the best week in Milan and the most energized movement. Everything seems more beautiful and more international.

W*: Three pieces of advice?
PL: See the permanent installation of Dan Flavin at the Chiesa di Santa Maria. Have a drink at the newly restructured ATM bar.

Gabriele and Oscar Buratti of Buratti+Battiston Architects

W*: Why do you live in Milan?
G+OB: We came for University, and have lived here for 10 years. We love Milan and we are sure one day it will return to being a beautiful city.
W*: What do you like the most?
G+OB: Milan does not possess the beauty or culture of other European cities like Paris or London but it possesses a special energy that derives from the fact that two important worlds, fashion and design, cross over here.

W*: Do you stay in Milan during the Salone?
G+OB: Yes of course, because it's the moment in which the city transforms itself and becomes a cosmopolitan capital. Everything becomes design and it becomes one large theater of events.

W*: Three pieces of advice?
G+OB: See as many things as possible but avoid opening night. Go the day after when it's calm and there are less people. Take time to see Milan's best architecture from Gio Ponti, Caccia Dominioni, Mangiarotti and Gardella.

W*: Three favourite places?
G+OB: The little church Santa Maria Chiesa in San Satiro. Gio Ponti's 1964 religious complex: the church of San Francesco. La Torre Branca in the Triennale park, again by Gio Ponti, built in 1933 allows you to see the city from 108 meters high.
Rosa Bertoli was born in Udine, Italy, and now lives in London. Since 2014, she has been the Design Editor of Wallpaper*, where she oversees design content for the print and online editions, as well as special editorial projects. Through her role at Wallpaper*, she has written extensively about all areas of design. Rosa has been speaker and moderator for various design talks and conferences including London Craft Week, Maison & Objet, The Italian Cultural Institute (London), Clippings, Zaha Hadid Design, Kartell and Frieze Art Fair. Rosa has been on judging panels for the Chart Architecture Award, the Dutch Design Awards and the DesignGuild Marks. She has written for numerous English and Italian language publications, and worked as a content and communication consultant for fashion and design brands.