Quattro Corti, St Petersburg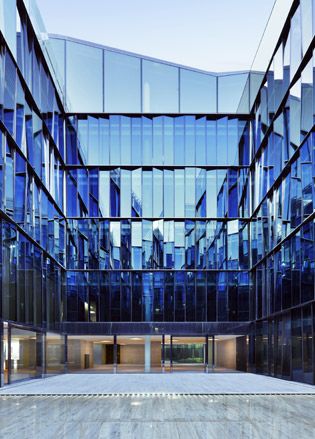 (Image credit: Piuarch)
Milan-based architectural firm Piuarch (opens in new tab) has become the first foreign practice to complete a contemporary building in the historical centre of St Petersburg since the Russian Revolution, with the opening of Quattro Corti, or 'Four Courts'. The state-of-the-art business centre comes with a panoramic restaurant, open to the public, and will soon be home to a boutique hotel (autumn 2011).
The complex is defined by four open internal courtyards, inspired by the layout of the city's historic palaces, behind the restored façades of two abandoned buildings from the 18th and 19th centuries. Each courtyard - including a gold-hued entrance quadrangle, a blue plaza with a shallow pool, a garden square and a red courtyard with a Cor-Ten sculpture - is faced with angled panels of tinted, mirrored glass. The colours reference St Petersburg's urban fabric.
Interiors are covered with white Italian travertine. On the sixth floor, the glass walls of the expansive Mansarda restaurant frame the dome of St Isaac's Cathedral and cityscapes in myriad directions. Overseen by Ginza Project (opens in new tab), the company behind more than 30 upscale restaurants in Russia - including Wallpaper* haunt Prado (opens in new tab) in Moscow - Mansarda has an international menu popular with Russia's jeunesse dorée.
City governor Valentina Matvienko presided over a fanfare opening ceremony, which confirmed that Quattro Corti is a big deal for St Petersburg. Up for lease is 14,000 sq m of fully tech-ed up, integrated office space, in a building that has been designed for the harsh climate, and tested in temperatures of minus 35°C. And in a city with major congestion issues, the mechanised parking system is a savvy addition, rather than a mere gimmick.
Many proposals by foreign architects in St Petersburg, including Dominique Perrault Architecture's (opens in new tab) plans for the Mariinsky Theatre, have fallen through. Piuarch, best known for Milan's Dolce & Gabbana HQ and Gold restaurant, continue an Italian tradition in the city. Francesco Bartolomeo Rastrelli, Giacomo Quarenghi and Carlo Rossi gave St Petersburg its identity by introducing Western baroque and neoclassical styles in iconic buildings such as the Winter Palace and Hermitage Theatre. Now, after almost 200 years, the Italians are back.