Afterglow: Amorphis rethinks the rotunda at Oregon State University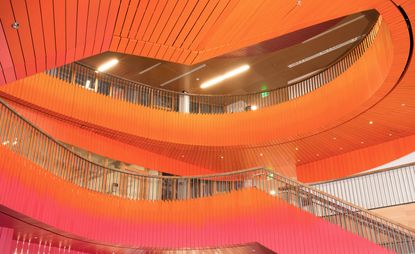 (Image credit: press)
Students often find their noses stuck in books or digital devices, but Afterglow, a new permanent installation at Oregon State University's new Student Experience Centre, will give them a reason to look up and wonder.

About 700 powder coated aluminum strips mimicking the colors of sunset, bend, twist, and flow throughout the central lobby, winding up two flights of spiral stairs and culminating in a mirrored ceiling piece composed of approximately 1000 unique mirrored tiles. The piece was created over two years by Los Angeles design firm Amorphis in collaboration with Matthew Au. The result is a modern installation that sparks the same awe as Italian painters used to aspire to when creating their ceiling frescos, where visitors can simply look up and see the heavens – or at least beyond their usual horizons.

According to Ramiro Diaz-Granados, principal of Amorphis, the firm wanted the installations to stitch together the neoclassical student centre's internal gridded partitions with the curves and elliptical shapes formed by its stairway.

Conceived and designed while the university's student centre was still under construction, Afterglow had to be coordinated with the structure, lighting, fire sprinklers, HVAC and ceiling design. But the greatest challenge was probably coordinating all of this while based in Los Angeles. 'I wasn't there full time. I was down in Los Angeles teaching, but also trying to run this and manage it,' said Diaz-Granados. Distance didn't deter him, however, and in the end, he says, 'I'm very happy with the results'.
ADDRESS
Oregon State University
2251 SW Jefferson Way
Corvalis, OR 97331
VIEW GOOGLE MAPS (opens in new tab)