Everything Architecture: OFFICE KGDVS stages ambitious retrospective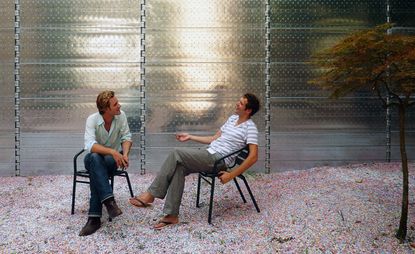 (Image credit: Tine Cooreman)
Since being formed in 2002, Belgian architecture firm OFFICE KGDVS (Kersten Geers David Van Severen) has quickly become one of the country's leading emerging – and most influential – practices around. The firm's new exhibition, entitled 'Everything Architecture', situated within the antechambers at Bozar – the Brussels Centre For Fine Art – has a suitably ambitious goal: to shake up the existing stereotype and format of what an architecture exhibition should be.

Geers and Van Severen have curated their retrospective to convey their firm's central ideology: that all of their studio's output – models, sketches and technical drawings alike – can exist as standalone products in their own right.

The show itself – built mostly around a series of models, but also drawings and paintings – aims to distill the practice's architecture down to its 'very essence and original form' by bringing architecture theory back to the basics and focusing on essential values. This approach is accompanied by a visually powerful and pragmatic analysis of the geometric processes that lead to the creation of a three-dimensional volume.

The exhibit's 'family of models' is presented alongside this calculated addition of art, which challenges the architectural elements, creating a dialogue between the two. Selected pieces from key artists such as Jené Daniëls, John Baldessari and Lewis Baltz stand side by side with the work of Geers and Van Severen. Their arrangement's spatial organisation simultaneously drawing on its surrounding space though a series of tables mirroring the impressive dome and setting.
INFORMATION
Everything Architecture will run at Centre for Fine Arts, Brussels until the 29 May. For more information on OFFICE KGDVS visit the website (opens in new tab)
ADDRESS
Rue Ravenstein 23,
1000 Bruxelles
Belgium
You might also like
Architects Directory Alumni: Notary office by Govaert & Vanhoutte

The Wallpaper* Architects Directory has turned 20. Conceived in 2000 as our index of emerging architectural talent, this annual listing of promising practices, has, over the years, spanned styles and continents; yet always championing the best and most exciting young studios and showcasing inspiring work with an emphasis on the residential realm. To mark the occasion, this summer, we're looking back at some of our over-500 alumni, to catch up about life and work since their participation and exclusively launch some of their latest completions. This new office building in Belgium's Bruges is the work of 2007 Architects Directory alumnus Govaert & Vanhoutte, as well as a balanced, minimalist, glass and concrete composition of cool and warm, light and dark.

By Ellie Stathaki • Last updated
View More ▸