Natural order: SuperLimão Studio's honeycomb-like showroom for Estar Móveis in São Paulo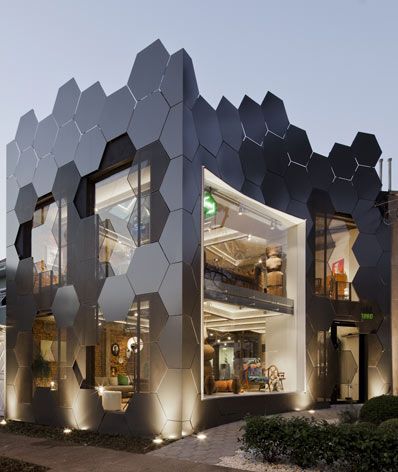 (Image credit: SuperLimão Studio)
It's a tall order for any interiors brand to stand out on Alameda Gabriel Monteiro da Silva, the seemingly endless strip of furniture galleries, showrooms and boutiques that cuts through the leafy, upscale neighbourhood of Jardim Europa in São Paulo. But Estar Móveis does just that, thanks to a new flagship store designed by local architecture firm SuperLimão Studio (opens in new tab).
We first turned the spotlight on SuperLimão after its refurbishment of groundbreaking design store Firma Casa (see W*157), making a grand statement with a 'living façade' crafted from thousands of suspended vases (opens in new tab) filled with native plants known as Swords of Saint George. Here, at Estar Móveis' new showroom, the architects have made another statement in metal, this time with hundreds of honeycomb-like panels, all powder-coated in a sleek gunmetal grey. The colour, together with the strategically placed perforated versions of the hexagonal sheets create an engaging visual effect, making this our current favourite structure on this all-important strip.
The façade is a well-tailored addition to what was an existing building, while elements of the inside have a more rough-and-ready feel, with concrete and brick walls left exposed. Both the elegant iron support structure and the furniture itself sit in contrast to the rough-hewn walls. And the space is awash in natural light thanks to a rooftop skylight and glass floor section between levels.
Estar Móveis' products are a high-end collection of captivating, contemporary pieces by both famous Brazilian designers such as Jader Almeida, Marcelo Ligieri, and Renata Moura as well as its own proprietary line. Estar has been in business for over 60 years, and has built a reputation for value in the market, bringing together quality, style and reasonable pricing - particularly since artist Felipe Morozini joined as creative director. This bold new retail space will beautifully flag up the company in the Jardim Europa neighbourhood.
ADDRESS
Estar Moveis (opens in new tab)
Alameda Gabriel Monteiro da Silva, 1080
São Paulo
Brazil