Photographer Keiichi Tahara's adventures in Fin-de-Siecle are explored in a new tome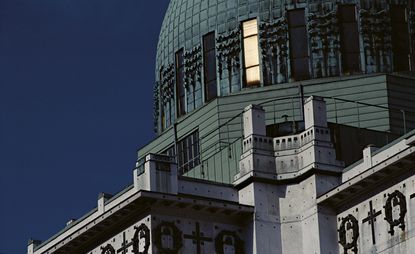 (Image credit: Photographer: Keiichi Tahara)
Keiichi Tahara, the architectural photographer known as the 'sculptor of light', sadly passed away on 6 June aged 65 — but he leaves behind one of his most impressive publications to date, the culmination of several years he dedicated to capturing the majesty and magic of Fin-de-Siecle architecture in Europe.

In three volumes containing more than 500 images, we see the architecture of the early 1900s bathed in the dramatic aura of Tahara's lens, merging his own interests in light and shadow with those of the architects he admired. Kyoto-born Tahara spent five years traveling across Europe, Russia and Turkey in search of some of the finest examples of the period, and the tripartite book explores the Art Nouveau movement in France, Italy and Belgium, Arts and Crafts in Britain and the architecture of the Viennese Secession, drawing parallels between their far-reaching ideology and aesthetics; whether it's a Budapest bathhouse or a sanatorium in Austria, a private house designed by Mackintosh in Scotland or a crematorium in Switzerland.

Among the better known highlights are Lluis Domenech I Montaner's pillars at the Palau de la Musica Catalana in Barcelona — captured with stunning by Tahara — whereas other details, from ornate sculpture ceilings to elaborate balustrade designs, ceramic tiles and stained glass windows, might be missed by the undiscerning eye.
Tahara clearly felt an affinity with the spirit of the time — what he refers to as the architecture's 'vital energy' — and in particular, with its sensuous approach: 'The intertwined forms appear to be created by the single stroke of a caressing hand.' He writes in a poetic and deeply personal introduction to the book. 'The relationship between architecture and life did not stop with the forms of flowers, fruits, and plants, but extended to include those of the human body as well. In an exclusive neighborhood near the Eiffel Tower, the entrance of an apartment building exhibits a phallic form, the main doorway has a vaginal shape, and the hall is decorated with reliefs symbolic of both sexes.'

Tahara's enchantment with these buildings and his appreciation for their creators is obvious — and it's a celebratory gift for posterity from the late photographer.
INFORMATION
Keiichi Tahara, Architecture Fin-de-Siecle, £200, published by Taschen (opens in new tab)
Charlotte Jansen is a journalist and the author of two books on photography, Girl on Girl (2017) and Photography Now (2021). She is commissioning editor at Elephant magazine and has written on contemporary art and culture for The Guardian, the Financial Times, ELLE, the British Journal of Photography, Frieze and Artsy. Jansen is also presenter of Dior Talks podcast series, The Female Gaze.