Game on: BIG completes a new sports and arts complex near Copenhagen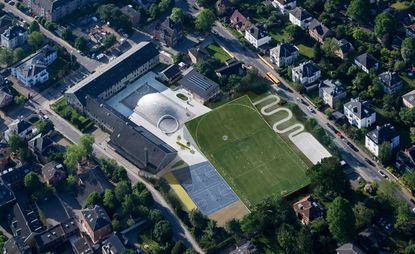 (Image credit: Iwan Baan)
A curving wood-clad mound swells out of the central courtyard at Gammel Hellerup High School, near Copenhagen. Next to it, the turf of a football pitch rises steeply towards an elevated edge, forming an angled glass façade below.

These intriguing landscapes were designed by the Bjarke Ingels Group (BIG), to accommodate a series of new spaces for the school, a new Sports and Arts complex created in response to the increase in the number of pupils, due to the school's growing popularity. 'We are all incredibly excited to finalise the last phase of the expansion with a complex that not only provides the necessary space and facilities for our students, but also with abundant opportunities for outdoor adventures', explained Principal Jorgen Rasmussen.

A new 1,400 sq m cultural activities centre is housed behind the glass facade. The accessible green roof overhead is used for sports matches. This two storey addition follows the recent completion of the school's sunken multi-purpose hall in 2014, also by the same architect, and provides extended creative learning facilities, linking the courtyard, the underground hall and the sport pitches. It also introduces a modern, glazed front, facing the existing brick classroom blocks.

Between these, the courtyard hillock creates space for social gatherings, whilst underneath glulam arches form a roof over the five metres recessed sport hall. In here, timber floors and ceilings are matched by grey concrete walls. This material compilation is inverted in the adjacent cultural activities centre: concrete is displayed above and below, with timber cladding on the walls.

Bjarke Ingels, Founding Partner of BIG, explains that the coherent visual aesthetic and efficient, new circulation routes, formed by these two architectural developments, have helped to ensure that a school which was 'formerly introverted and dispersed, has become open and integrated'.