KAAN Architecten's Belgian crematorium encourages introspection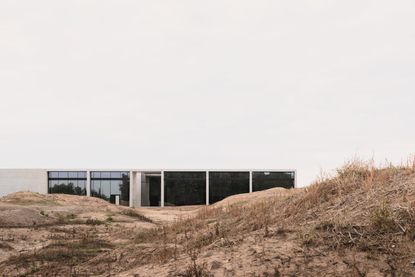 (Image credit: Simone Bossi)
KAAN Architecten holds the human aspect of its projects in high regard. 'We prefer to work with clients that come to us with the greater good in mind', says Kees Kaan, founder of the Dutch firm, who adds that their professional direction – focusing on public work, more than private houses – was not something he necessarily set out to do.

With the completion of Crematorium Siesegem, a project led by Vincent Panhuysen, KAAN Architecten can count another thoughtful structure as part of their portfolio. Crematoria have complex logistics that often determine their design. This newly completed crematorium, on a 5476sq m plot on the outskirts of Aalst in Belgium, feels holistic and soothing thanks to its controlled flow of activity. The trees, shrubs and small hills surrounding the building, conceived by Brussels landscape designer Eric Dhont, move visitors to slow down before entering. A service road for hearses to the east is hidden from view entirely.
'We wanted to give the families that come here the feeling that it's an exclusive experience', says Panhuysen about the separation between the visitors and the logistics of the ceremonies. From the reception hall, to the ceremony spaces and the restaurant and bar – in Belgium, Catholic tradition prescribes enjoying coffee and a small meal with relatives and friends after a funeral – the 6.4 metre high ceiling imbues visitors with a feeling of vastness, while the ceiling height windows let in generous amounts of daylight. An especially commissioned large-scale charcoal painting by Belgian artist Rinus Van de Velde radiates serenity and comfort despite its dark symbolism.

The elimination of various passageways encourages introspection, says Panhuysen. The spatial clarity of the crematorium's layout contributes to the tranquility of the experience here, as does the architectural simplicity of the ceremonial assembly halls clad in Ceppo di Gré marble and furnished with benches upholstered in a softly textured yellow-beige leather. Acoustic plaster with a flocked quality adds to the domestic feel of these spaces.

In accordance with changing practices concerning cremation, KAAN Architecten decided to show the technical side of the process, says Panhuysen. As opposed to being closed off for visitors, as is usually the case, visitors can enter the cremation chamber, where the apparatus is conceived almost as abstract pieces of furniture in a soft, matt yellow. What's in effect an industrial process becomes humane by virtue of KAAN Architecten's characteristic legible designs that balance between monumentality and intimacy – in times of bereavement, it's the kind of comfort only architecture can offer.
INFORMATION
For more information, visit the KAAN Architecten website (opens in new tab)