Boksto 6 by Studio Seilern Architects brings 'transformative restoration' to Vilnius Old Town, Lithuania
Boksto 6 in Vilnius Old Town is a mixed-used development by Studio Seilern Architects, in the heart of the 500-year-old Unesco World Heritage site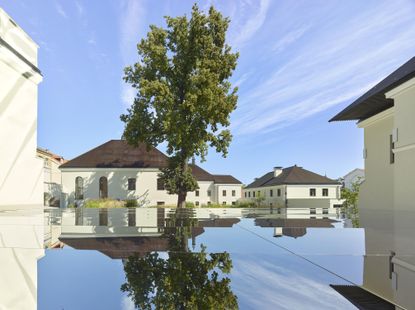 (Image credit: Roland Halbe)
Boksto 6, in Vilnius, Lithuania, was designed by architect Christina Seilern as a mixed-use development in the heart of the 500-year-old Unesco World Heritage-protected Old Town. Described as a 'transformative restoration' Studio Seilern Architects' designs preserve a historic complex of buildings, while fully modernising and elevating them with a series of dynamic interventions reflecting the capital city's contemporary community.
Boksto 6 by Studio Seilern Architects
Revealing Lithuania's history of consecutive occupation, the storied site of six buildings had been a Polish Cardinal's Palace, a Carmelite monastery and then a Soviet hospital. Now it has become the masterplan for two office buildings, several homes, a restaurant, an event space in the former chapel, a spa with a 25m pool and garden, a sunken restaurant, and a landscaped public courtyard.
To resolve past and present, Seilern was guided by Article 21 of Unesco's Vienna memorandum that outlines how pseudo-historical design constitutes a denial of both historical and contemporary alike. As a result, the clarity of the Gothic and Baroque proportions has been retained – the vaulted corridors and soaring chapel nave – as well as much of the historical fabric, such as original brick walls, timber beams and restored frescoes.
Yet a series of careful 'insertions' of new concepts and materials places Boksto 6 firmly in the present. The 'tower' (holding a lift and staircase for the offices) and restaurant roof are made of polished Japanese steel which kaleidoscopically mirror Baroque spires, the sky, the old linden tree in the courtyard (which needed to be preserved on pain of a €300,000 fine). In the subterranean spa, circular roof lights, smooth terrazzo and white oiled oak offer lightness and sensory contrasts to heritage.
In regards to these 'insertions', Seilern, a former founding director of Rafael Viñoly Architects who set up Studio Seilern Architects in 2006, references light and space artist James Turrell, the landscaping of the Alhambra and concepts of 'unstable equilibrium', levitation and infinity. 'I like the idea of using reflection and light as a form of anti-structuralism,' says Seilern. 'Rather than revealing the structure, you're playing with it. Reflection can both increase space and make it disappear.'
Modern architecture is often met with resistance in Vilnius Old Town, where customary white plastered walls and red clay tiled roofs follow Unesco guidelines. Yet with a growing population, the city is also seeking to densify. Seilern found a compromise with her roof at Boksto 6; an aluminium shading system that brings natural daylight into the upper spaces, but also keeps the required visual consistency. 'It's not radical, it's the right thing to do,' she says of her solution. 'It's rooted in the history of the project and designed for the continuity of the life of this complex.'
Harriet Thorpe is a writer, journalist and editor covering architecture, design and culture, with particular interest in sustainability, 20th-century architecture and community. After studying History of Art at the School of Oriental and African Studies (SOAS) and Journalism at City University in London, she developed her interest in architecture working at Wallpaper* magazine and today contributes to Wallpaper*, The World of Interiors and Icon magazine, amongst other titles. She is author of The Sustainable City (2022, Hoxton Mini Press), a book about sustainable architecture in London, and the Modern Cambridge Map (2023, Blue Crow Media), a map of 20th-century architecture in Cambridge, the city where she grew up.