Enoc Perez interprets Philip Johnson's Lipstick Building for the Glass House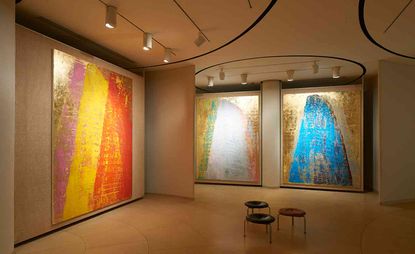 (Image credit: Andy Romer)
As it did during Philip Johnson's lifetime, the Glass House—that icon of mid-century modernism—continues to explore the relationship between architecture, landscape, and art. Last year, with Veil (opens in new tab), for example, artist Fujiko Nakaya shrouded the iconic building in a dense fog, and this year, with Lipstick, Enoc Perez (opens in new tab) has produced a series of paintings that interpret Johnson's Lipstick Building (opens in new tab), a tower in Manhattan that opened in 1986.

Curated by Cole Akers, the exhibition is installed in the Painting Gallery, a circular space embedded into the landscape and originally built in 1965, 16 years after the Glass House itself. The venue's contours originally inspired Perez to take the Lipstick Building as his subject. 'I thought the elliptical shape of the Lipstick Building would correspond so well with the circular gallery,' he explains.

His choice of colour palette was similarly site-specific. 'There's a lot of polished brass throughout the property,' Perez observes. 'I used the gold background on all of the paintings as a reference to that.'

Abstraction of modernist architecture has been a recurring theme throughout Perez's body of work. Inspired by Andy Warhol's prints of celebrity contemporaries, Perez uses a similar technique to produce serial images of modern buildings.

Construction crews, meanwhile, are in the midst of restoring another of the estate's buildings: the Sculpture Gallery, a 1970 structure meant to house Johnson's extensive sculpture collection. Scheduled for completion before the 2016 visiting season begins in May, the project will replace the building's glass roof, enhance waterproofing, and transform it into a museum-quality gallery.

Historically, New Canaan, Connecticut, where the Glass House is located, has been one of the centers of 20th century architectural experimentation, with the so-called Harvard Five — Johnson, Marcel Breuer, Eliot Noyes, John Johansen, and Landis Gore — each significantly contributing to the town's architectural makeup. With the recent opening of Grace Farms, and with the ongoing arts programming at the Glass House, that legacy has a far-reaching outlook into the future.
INFORMATION
'Enoc Perez: Lipstick' runs until 30 November
ADDRESS
The Glass House (opens in new tab)
199 Elm Street
New Canaan, Conneticut
VIEW GOOGLE MAPS (opens in new tab)