Architect Daniel Libeskind's trio of new projects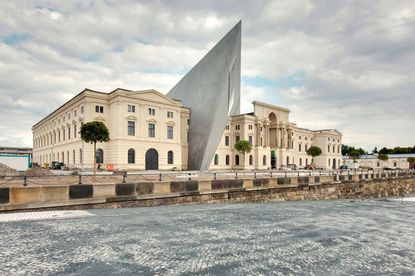 (Image credit: © Bitter Bredt, courtesy of Studio Daniel Libeskind)
Military History Museum, Dresden

The centrepiece of Libeskind's redesign of the Military History Museum is a hulking five-storey, 200 tonne wedge of glass, concrete and steel that thrusts up through the middle of the original building built in 1897. At the crest of the wedge is a 99 ft high viewing platform that's angled towards the drop zone of the bombs that flattened Dresden in the Second World War. The orientation is a conscious meditation on the city's immediate past which Libeskind insists is 'central to the transformation of the city today', adding that 'the destruction of Europe and European cities by the Nazis is part of the story of the destruction of Dresden. One cannot separate the Shoah and the museums that deal with memories from the history of Germany and Dresden.'

Completion: October 2011
Even by his own prolific standards, these are busy times for the New York-based architect Daniel Libeskind (opens in new tab). Emerging from the scaffolding this month are two ambitious projects in Hong Kong and Dresden, with a third due for its close-up in Singapore by the end of the year. Here we take you on a tour of this new trio of buildings, ranging from a giant wedge of glass, concrete and steel, to a series of post-Apocalyptic towers.
Run Run Shaw Creative Media Centre, Hong Kong

Run Run Shaw, pioneering film studio chief and one of Hong Kong's most famous sons, would have applauded Libeskind's energetic design for the eponymous Run Run Shaw Creative Media Centre. Located in the City University of Hong Kong, the 263,000 sq ft building brings together under one roof the new-media, film, design, and photography departments. Not surprisingly, symbolism is a dominant feature of the design - the montage of oddly angled asymmetrical steel-reinforced concrete slabs is meant to represent 'the anarchic nature of the creative process, with its push-pull of ideas that change shape as they evolve, generating their own momentum.'

Completion: October 2011
Reflections at Keppel Bay, Singapore

Seen from the distance, Libeskind's six bay-side condominium towers rise up from their forest frontage with a disturbing shattered, post-Apocalyptic quality about them. Up close, the 2m sqft project bears all the hallmarks of Libeskind's bent for asymmetry and odd angles. With barely any straight lines in their elevations (save for the elevator shafts), the towers twist and bend like a stand of willows. Even by Singaporean standards, the scale of the project is audacious with 11 low rise apartment blocks clustering at the foot of the trinity of twin-towers, the latter linked by tiers of green plazas that catch the breeze coming in off the sea

Completion: End of 2011
Daven Wu is the Singapore Editor at Wallpaper*. A former corporate lawyer, he has been covering Singapore and the neighbouring South-East Asian region since 1999, writing extensively about architecture, design, and travel for both the magazine and website. He is also the City Editor for the Phaidon Wallpaper* City Guide to Singapore.