Every cloud: discover Shiqi Fu's dreamy jewellery
Shiqi Fu translates childhood fantasy into playful jewellery design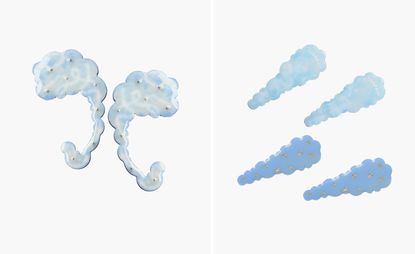 (Image credit: Shiqi Fu)
Childhood dreams meet fantastical themes in the work of emerging designer Shiqi Fu, who brings a dreamy playfulness to jewellery design.
A graduate of Glasgow School of Art, Fu translates an ethereal aesthetic into offbeat forms. 'By infusing organic shapes with vibrant colours, my creations are designed to transport the audience into a realm of fantasy where the boundaries between reality and imagination are delightfully obscured,' she says. 'The core of my aesthetic philosophy is centred around crafting pieces that not only embellish the body but also stir emotions and memories, thus bridging the gap between the enchanting realm of childhood and the intricate complexities of adulthood.'
It is a narrative expressed in images from nature, with clouds and flowers joining more abstract silhouettes. 'I love working with elements such as sterling silver and brass; they form the basis for the intricate details in the jewellery I create,' Fu adds. 'In this collection, I also incorporate softly toned stones like opal and moonstone. These stones enable me to capture the serene and dreamy qualities of the sky. Furthermore, I enjoy experimenting with techniques that enhance the colours, such as enamel. Enamel, with its ability to add vibrant colours, contributes to an enchanting palette reminiscent of childhood fantasies.'
Fu translates the childhood fantasy of what is beyond the sky into wearable designs, a process not without its challenges: 'The biggest difficulty was how to translate the intangible and flowing textures of clouds and sky into tangible and wearable visual language and forms. I used the design language of wrapping, piercing and enveloping to imitate these movements. In the process, I did a lot of experiments with modelling, and finally got the right balance between fragility and durability to ensure that the series is both visually appealing and structurally sound.
'My explorations are primarily centred around fluffy and voluminous clouds. For example, as a child, I used to yearn to catch them, to get close, and to pass through them. Furthermore, I intend for the viewer to perceive the artwork in a manner that allows them to reconnect with their inner child. This invitation encourages them to reminisce about their own childhood fantasies and adventures. Such an emotional connection can be profoundly moving, reminding us of a time when life was less complicated and curiosity flowed more easily.'
Receive our daily digest of inspiration, escapism and design stories from around the world direct to your inbox
Hannah Silver is the Art, Culture, Watches & Jewellery Editor of Wallpaper*. Since joining in 2019, she has overseen offbeat design trends and in-depth profiles, and written extensively across the worlds of culture and luxury. She enjoys meeting artists and designers, viewing exhibitions and conducting interviews on her frequent travels.