Cartier bejewels Paris' Grand Palais in a new exhibition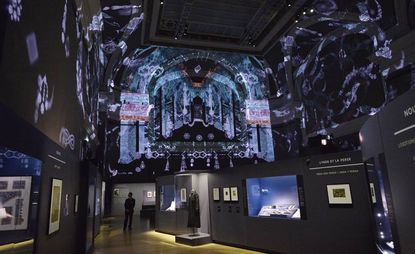 (Image credit: Cartier)
Wallpaper* Newsletter
Receive our daily digest of inspiration, escapism and design stories from around the world direct to your inbox
Thank you for signing up to Wallpaper. You will receive a verification email shortly.
There was a problem. Please refresh the page and try again.
In France, luxury is not about monetary value, rather it is about the time, skill and the vision it takes to create an object. That it may happen to be created using rare and expensive materials that few can afford is not the point. Craft is a major art form. So there is no place better suited to staging one of the first ever public gallery exhibitions of fine jewellery than the Grand Palais in Paris.

The decision to create an entire show dedicated to the art of Cartier - Cartier: Style and History - may have been met with raised eyebrows by some, perplexed by the notion of treating a commercial brand as a significant creative force. Yet, as the French jeweller was asked to take part in the show, the subtitle, 'Style and History', is by no means a sponsored corporate swagger. It is simply that, like all great art, Cartier's visionary use of metal and stone, reflects our own history, a conceptual reflection of the changing times.

To sway accusations of corporate collusion, the exhibition stops short of showing contemporary pieces (which is a shame, as Cartier's recent high jewellery foray into Africa suggests that Cartier heirlooms of the future will be no less prized than the best-known pieces today), but I doubt anyone will visit this exhibition and not leave with a new view on what jewellery design says about us.

The exhibition installation is as traditional as you might expect of a grand institution - a more contemporary set design would serve the idea of jewellery as art far better and had Cartier had a hand in the telling of its own story, this would have undoubtedly been the case. Also, not all the pieces on show are successful - the brand's Egypt period is most certainly not its finest, according to this show. But the changing projections of jewels across the expansive vaulted ceiling and high walls of the building are a grandiose visual touch reflecting the rare beauty of the stones on show.

There are many things other than jewels to ponder, however, and the objets - a pavé ebony lighter, a glossy silver and gold cigarette box, sunburst enamel travel clocks, lacquer picture frames and wristwatches - are worth seeing in themselves. They encapsulate what is at the heart of Cartier and the real value of luxury - heightening the aesthetic of functional items so that they become wonderfully pleasurable to look at too. Cartier all but created the first luxury packaging for make-up, for instance.

The jewels are, of course, exceptional. Whether personal commissions for early 20th century Maharajas or avant-garde creations dreamed up by house creative director Jeanne Toussaint, known affectionately as 'the Panthere', the sheer scale of pieces on show here serves to weave a shimmering path through changing tastes and eras.

But it is the design vision of Louis Cartier, who with his two brothers set up his eponymous jewellery business as a force in its own right in the late 1800s, that really intrigues. His tendency towards classicism created a solid design framework that offered his creative teams the freedom to do almost whatever they wanted, without ever straying from the Cartier identity. The house was untouched by the Art Nouveau movement, for instance, Louis Cartier instead preferring the geometric Japanese design sensibility that was a precursor to Art Deco.

His ability to stick to his own design viewpoint regardless of what was in favour with society at large, also meant that the house was never a slave to fashion. And that is just one of the reasons that Cartier's creations are being celebrated as fine art today.
ADDRESS
Grand Palais 21 Avenue Franklin Delano Roosevelt, 75008 Paris, France
Receive our daily digest of inspiration, escapism and design stories from around the world direct to your inbox