Caran d'Ache and Swiss watchmaker MB&F launch a cosmic new pen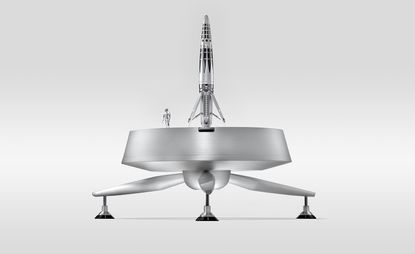 (Image credit: press)
Geneva watch brand MB&F continues its obsession with old-school sci-fi in a witty new collaboration with Caran d'Ache, the Swiss writing instrument manufacturer. Together they have created the Astrograph, a limited-edition pen design rooted in old-fashioned childhood fantasies of the Space Race, designed to highlight the mechanical skills central to the processes of both high-watchmaking and pen design.

The Astrograph's slim, curved 'fuselage' is immediately redolent of the elegant and graceful imaginary rockets that appeared on the lurid covers of sci-fi pulps and film posters before the purely functional forms of genuine spacecraft appeared. Other sheerly delightful design characteristics include a 'switchblade' landing gear, a launch-pad case and a tiny astronaut. It took four years to develop, with each pen requiring 500 hours of handcraft to produce.

Says MB&F founder Max Büsser, 'We came up with the idea and design, but as it is so outside the realm of normal pen technology, we worked together with their R&D team to bring it to life.' As such, the pen has been completely manufactured in the Caran d'Ache workshops.

Sleek and unmarked by rivets or external pipework like actual projectiles, the Astrograph's fluid design has been decorated with a chequered pattern, enriched with anthracite lacquer – a Caran d'Ache speciality undertaken by its in-house crafts studio.
Carole Hübscher, chairwoman of Caran d'Ache, admits that the process tested in-house creativity and technological expertise, but embraced the notion of a 'new journey that proved to be both thrilling, complex and fun'.

She points out the greatest validation of all: 'Caran d'Ache's pens have been to the International Space Station. They've already been travelling in space, so for us it was sort of [a] continuity of Caran d'Ache's own space odyssey.'

A happy exchange of skills and ideas, the Astrograph comprises 99 different constituent pieces, with a choice of finishes, including high-gloss rhodium, sandblasted matt rhodium or anthracite ruthenium.

According to both collaborators, the Astrograph is for 'those who have managed to keep hold of an essential part of their childhood dreams'. Including, of course, the ever-childlike Max Büsser.
INFORMATION
Astrograph, £16,205. For more information, visit the Caran d'Ache website (opens in new tab) and the MB&F website (opens in new tab)