The China List: Vivienne Tam, Fashion
Wallpaper* and China's Cultural Heritage and Sustainable Development Fund (CHSDF) present China By Design—a celebration of Chinese cultural heritage and the many global creatives who have been inspired by it.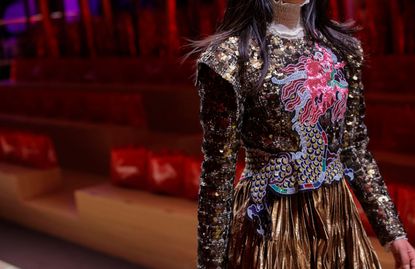 (Image credit: TBC)
'I hope to spread Chinese culture through my own design, and through continuous innovation transform traditional Chinese culture into a modern lifestyle,' Vivienne Tam told WWD after her A/W 2019 runway show. The Guangzhou-born, New York-based designer's autumn collection, which took the top billing at Shanghai Fashion Week, was an interplay of Western and Eastern influences, featuring dragon motif denim and hoodies, ruffled red dresses with Oriental patterns, chunky knitwear and cinched tailoring. That same year, she also designed the uniforms for the Mandarin Oriental Hotel in Beijing.
Tam, who grew up in Hong Kong, relocated to New York after studying at Hong Kong Polytechnic University. She launched her fashion label in 1982. The designer's most renowned – and controversial – collection, launched in 1995, featured a collaboration with New York-based Chinese artist Zhang Hongtu, who created pop art-style satirical portraits of Chairman Mao dressed as a vicar or with hair tied in bunches. These images were tessellated in saturated or grayscale tones across T-shirt dresses, shirts and blazers, now part of the V&A's Fashion collection.
Tam's collections have also drawn on a range of Chinese references, from Buddhism and the Mogao Caves, to the decorative arts of the Ming and Qing dynasties and the 2015 Chinese 3D fantasy film Monster Hunt. Her 2000 book China Chic explored the Eastern and Western references that inspired her designs, including zen gardens and the qipao. In 2016, she received Beijing InStyle Expo's Lifetime Achievement Award for her contribution to the promotion of Chinese culture.
INFORMATION