The China List: Valentino, Fashion
Wallpaper* and China's Cultural Heritage and Sustainable Development Fund (CHSDF) present China By Design—a celebration of Chinese cultural heritage and the many global creatives who have been inspired by it.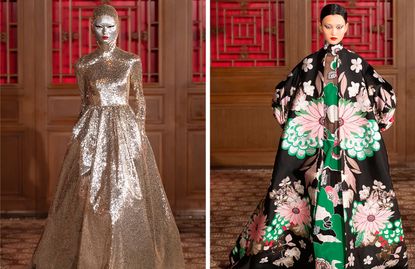 (Image credit: TBC)
'When I was in Beijing for the first time, in 1993, I saw a collection of old Chinese costumes, and it was one of the great emotional moments of my life,' Valentino Garavani told Architectural Digest in 2012. It was that same year that the designer staged his first fashion show in the Chinese capital, but for decades before, his collections had referenced Chinese motifs, silhouettes and symbolism, like the blue-and-white willow prints in the 1968 haute-couture collection. The intricate embroidery in his 1991 haute-couture offering nodded to Chinese textiles, and his 1993 haute- couture collection was accessorised with pagoda-inspired millinery. At the couturier's Château de Wideville residence outside Paris, rooms are populated with Asian ceramics, artworks and Chinoiserie, a testament to his fascination with the Far East.
For Valentino's A/W 2013 collection, co-creative directors Pierpaolo Piccioli and Maria Grazia Chiuri looked back to the willow prints in Valentino Garavani's 1968 collection, and the Dutch Delft ceramics that drew from them, with a collection of dresses in gauzy China blue-and-white floral prints. In October 2019, the house's now sole creative director, Piccioli, bought the Roman house back to Beijing, staging a haute-couture show at its iconographic Summer Palace. Voluminous duchess satin gowns, feathered capes and sequin opera coats in lustrous reds, fuchsia and emerald green, featured in the Daydream collection, evoking both the splendour of Imperial China and Renaissance Italy, in a magnificent meeting of two cultures.
INFORMATION