Singapore Airlines unveils next generation of cabin interiors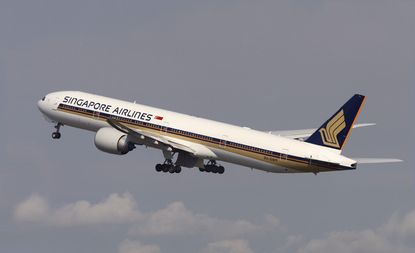 (Image credit: press)
There's no room for complacency in the airline business. Executives at Singapore Airlines have been known to say; 'If you stay still you're essentially moving backwards'. Wise words, considering the aviation landscape is getting more competitive by the day. The war of the fully-flat beds, luxury in-flight shower rooms and fine dining at 32,000ft is in full throttle as airlines battle it out in the sky (opens in new tab), and this week Singapore Airlines (SIA) revealed revamped seats in its First, Business and Economy classes in a bid to come out victorious.

Rather than a bold, revolutionary overhaul, the airline has taken the gentler, quieter, more evolutionary approach. The business class seat is the cornerstone of SIA's product range; it's currently the widest full-flat seat that money can buy you. Speaking of the seat at the launch, Mak Swee Wah, SIA's executive vice president of commercial noted: 'We have looked at the functionality. We've looked at the features, improved the storage, and overall we've updated the look and feel and aesthetics of it, so that you can have an overall good cabin ambience and travel experience.'

SIA's new business class has maintained most of its key features, but now has a narrower seat following feedback that customers want to feel cocooned in their space. It now boasts bold modern metallic accents and high gloss finishes. There are also two added seating modes for lounging - the 'Lazy Z' and the 'Sundeck', taking the recline angle from the existing 125 degrees to 132 degrees.

Designed by James Park Associates - the firm responsible for bringing opulence to the interiors of the Orient Express (opens in new tab) - leather seats now come in a refreshed colour palette of aubergine or taupe, cradled by a contoured silver fixed-back exterior shell. Interestingly, the flip-down seat - which has been a point of contention for some passengers who prefer the simplicity of a fully-reclining seat bed - has been kept. 'Yes it is true, there are some people who don't like it, but there are a lot of people who do,' says Mak. 'What we've done this time is to take what we know is a good seat, and make it even better.'

Going one above that is first class. It's still a sector that is going strong for SIA, despite the fact that some other airlines have abandoned that class (opens in new tab) entirely. Question is, how do you top the drama, sheer luxury and sense of occasion that is the suite - or rather 'personal cabin' - that the airline launched in 2006 to mark the introduction of its A380 fleet? '[The suite] is quite unique to the A380 because of that particular plane, and the space within it, so that will remain', said Mak. 'What we have proposed today is a first class for the rest of the fleet, which is a good product for long-haul and for the aircraft type that we have.'

Thanks to a new design concept by BMW Group's DesignworksUSA, first class travellers will enjoy seats equipped with an extended curved side panel for added privacy. With rich chocolate leather seats and orange accents on headrests and cushion trimmings, the warm tones of the interior of the space have been deliberately designed in contrast to the cool metallic grey palette of its exterior. Better ambient lighting, more stowage space and a passenger control unit that now has a switch for cabin crew to turn off the LCD monitor without disturbing the passenger nicely complement the two inches of extra legroom that SIA has thrown in for good measure.

The redesign extends past the premium classes (opens in new tab). In economy, new backrest seat cushions with side bolsters have been brought out for better back support, and wider 11.1-inch monitors are now equipped with a touch-screen graphical user interface (GUI) and handset.

The new interiors are also accompanied by a rejigged entertainment system, and the entire 'next generation' proposition coincides with the introduction of SIA's latest aircraft, the Boeing 777. The redesign also comes in anticipation of the new A350, which SIA calls its new 'Next Generation' plane. Currently, the seats will be fitted to eight new Boeing 777s, and will be rolled out in September, where passengers travelling from Singapore to London - a key route in SIA's network - will be the first to sample the upgrade.

With such significant investment being pumped in - a cool US$150 million - some might question the timing of the launch when the premium travel market is still on shaky ground (opens in new tab). 'We always take a long-term view of our business model', said Mak. 'We are confident that the segment will recover, and there will be a demand for the airline that provides the best travel experience.'

SIA has been a leader in the premium sector for some time, but in recent years, the Singaporean airline's middle-eastern and Asian counterparts have been nipping fiercely at its heels. The upgraded seats and products are spearheading efforts to claw its way back to the top. Has it worked? Only time will tell. But from where we're standing, this latest proposition is one high flyer.