Rome rising: the city's new breed of creatives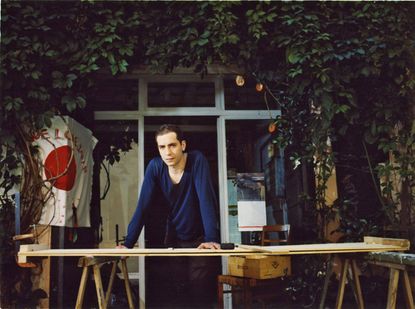 (Image credit: Elisabetta Claudio)
Francesco Bottai
The man bringing an artisanal touch to contemporary art

Most of Italy's wood masters, called falegname, are aged over 90. So it's a pleasant brow-raiser to glimpse Francesco Bottai's sprightly muscles as he bends over his carpenter's table at his atelier on via dei Cappellari. Not only is Bottai bringing youth to one of Italy's oldest crafts, but he's also bringing coolness. When not chiselling out chairs, he is creating stage-themed art installations that reflect his former life as an actor. 'The idea is to bring the artisan quality to art,' says Bottai. 'Contemporary art has become so conceptual. The manual aspect is disappearing.'

Tel: 39.33 42 34 86 79
Milan is Italy's undisputed design power, but the capital is on the counter-attack and the city's skilled craftsmen are being enlisted to join the charge. Thousands of years of design practice has blanketed Rome with marble statues and slapped it with a reputation as a hotbed of old-timer output but now that slow is super, and everything old feels new again, this well-preserved city can't help but have its own creative moment - and no one knows this better than Rome veteran Silvia Venturini Fendi (the third generation creative director of the Fendi (opens in new tab) empire).
Moonlighting as the president of AltaRoma (opens in new tab) - an organisation that promotes Roman high fashion - Venturini Fendi (pictured above) is rescuing old ateliers from obscurity and linking them with young talent. 'I'm pushing to keep certain traditions alive. I think Rome can be the stage for what I call "neo-couture", and it's not just related to fashion,' she says.
Indeed, young designers and artists from all fields are discovering the old, laborious traditions found under their noses, and are using elements of these to create extraodinary new work. 'This is the only city in the world where you find workshops in the city centre,' says Brazilian designer Humberto Campana (opens in new tab), who last year had a creative reawakening while on sabbatical in Rome. 'Young creatives are realising the intrigue of unique objects made in limited editions,' says Venturini Fendi. 'And Rome is the ideal place for this.'
Take her tour of the studios of some of the city's most interesting designers and photographers.
Francesco Bottai
Bottai's diorama 'Delitto a Castel Sant'Angelo' in the basement of his workshop, which he excavated with his father and has set up like a gallery. He still primarily works out on the street on a bench, just like other artisans have done for 300 years
Alessandro Cicoria
The photographer who has turned the colourful Hotel York into his base and muse

When Alessandro Cicoria moved to Rome from his native Abuzzo he was without a euro and needed a place to stay. The Hotel York, a post war edifice on Rome's periphery owned by his aunt, become his home, his studio and the inspiration for his first photo-novella titled 'Hotel York'. 'It feels like being in a Bangkok hotel in the 1950s,' says Alessandro. 'There are always strange couples coming in and out at night.' The weirdness provided endless content for Cicoria's project (featuring friends and hotel staff as the actors) and has become a home-away-from-home for his band of artsy friends. The hotel's out of the way neighbourhood, with its gritty streets and unconventional surroundings, are also perfect fodder for Cicoria's reportage and street style photography, the subject of his latest Rome-based project, titled 'Batik'.

alessandrocicoria.tumblr.com (opens in new tab)
Delfina Delettrez
The jewellery designer who started her own jewellery line aged 19 and is a dedicated proponent of artisanal skills

When it came to opening her own atelier, 23-year-old Delfina Delettrez - the daughter of Silvia Venturini Fendi and French jewellery designer Bernard Delettrez - decided on the heart of an artisan quarter where old men still make chairs in small open doorways. 'It's in the city centre but still very authentic,' says Delettrez. Each of her pieces is made by hand - she employs three artisans - and many are one-offs based on artifacts she has found, which makes parting with them all the more difficult: 'I just sold a choker with two spiders on. Every time I see the woman who bought it I want to take it back.' Staying small is Delettrez's mission. 'So I guess I'll remain poor,' she sighs. 'But I prefer it this way; you have your freedom and it still feels like a game, not a job.'

delfinadelettrez.com (opens in new tab)
The Campana Brothers
Rome has proved a rich source of inspiration for these Brazilian designers

Galleria O, owned by Roberto Giustini, Stefano Stagetti and Rossella Peruzzi, is the city's best contemporary design gallery. Together with the Collezione Calabresi di Roma, the gallery produced the first of its 'Privato Romano Interno' series, a design project curated by Emanuela Nobile Mino. For its first exhibition, Nobile Mino invited Humberto and Fernando Campana to work in Rome last year where the city and its artisans ignited a creative fire in the São Paulo-based designers and led to a collection of furniture entitled 'Brazilian Baroque Collection'. 'Once I saw the Galleria Cortona, the ideas came to my mind like a gift,' says Humberto Campana of the magnificent hall in the 17th century Palazzo Pamphilj, where their new works would be exhibited. The designers chose two of Rome's classic materials, marble and bronze, for their ornate lamps, chairs and tables, but employed them in an unorthodox fashion. Slicing marble into 1cm sheets or layering bronze pieces, they shocked and thrilled the local artisans whose traditions were put to the test in making the designs, including the 'Basoli' table and 'Aleijadinho' candleholders (pictured). Finding masters who were up to the challenge was rewarding for the duo. 'For me, this was a kind of spiritual experience,' says Humberto.

galleriao.net (opens in new tab); www.campanas.com.br (opens in new tab)
Gabriele Giugni
A former pasta factory is a buzzing creative hub for this photographer

The Pastificio Cerere, a former pasta factory in Rome's San Lorenzo, bombed during the Second World War, now houses a restaurant, an art foundation and 60 artists' studios, including Gabriele Giugni's. 'The vibe here is a mix between the Factory and Melrose Place,' reports photographer Giugni, whose Ulysses Syndrome series features at this year's Biennale in Venice. 'There are parties and a flow of ideas. I am super motivated here.' Rome's old-school craft also plays a part in his work, such as the rusted box frames he commissions from an artisan in the Trastevere district. 'He solders the metal with his bare hands,' marvels Giugni. 'It's incredible.'

www.gabrielegiugni.it (opens in new tab)
Luca Gnecchi Rusconi
Old-school production methods are part of this eyewear company's vision

Eyewear company LGR's feisty young owner, Luca Gnecchi Rusconi, is evangelical when it comes to battling the behemoths of his industry. 'Around 90 per cent of the market is controlled by these huge companies, and it's wrong,' he says. Number one on his sin list is plastic, used liberally by the Big Bad Guys on both lenses and frames. Gnecchi is committed to making sunglasses the old-fashioned way, and has even re-opened the old Italian factory that used to supply his grandfather's eyewear shop in Eritrea, to ensure an authentic production. His frames are made of flexible cellulose acetate with anti-scratch glass lenses. 'I want a product that lasts a lifetime,' he says.

www.lgr-sunglasses.com (opens in new tab)
Micaela Calabresi Marconi
The entrepreneur who relaunched and updated classic leather goods brand Saddlers Union

A hidden gem on via Condotti in the 1960s, with a then-cult following, Saddlers Union closed in 2004 and was all but forgotten until Micaela Calabresi Marconi came along to revive it in 2009. A long-time fan of its impeccably crafted handbags, she tracked down the brand's last living artisan and convinced him to get back to work. Now located on the artsy via Margutta, Saddlers Union still offers its signature weekend and bucket bags, made using the same traditional techniques, but with a choice of new proportions and leathers. It also produces a new homewares line.

saddlersunion.com (opens in new tab)
Sergio Zambon
Traditional tailoring is the basis for this designer's modern look

A veteran of Fendi's ready-to-wear team, Rome fashion designer Sergio Zambon has helmed his own label for the last four seasons. Milan may be the country's fashion epicentre, but the isolation of Rome suits Zambon just fine. 'It's more stimulating here because it's independent from the system,' he says. 'The Italian tailoring tradition comes from Rome. It's not an industry like it is in Milan.' In Rome, Zambon (pictured in his atlier) has unfettered access to the master tailors whose ancient techniques inspire him. 'I take this heritage and express it in a new, contemporary way,' he says. Which means mink finds its way onto shoe heels, while precious fil coupé is cut into a clean-lined coat.

www.sergio-zambon.com (opens in new tab)
Valentina Bonomo
The gallerist acting as a catalyst for the city's contemporary art scene

Rome's snowballing contemporary art scene is starting to crack the city's reputation as a mere container for ancient relics. Though foreign gallerists like Larry Gagosian and Lorcan O'Neill have planted their flags in Rome, there are also a handful of small, but influential local galleries contributing to the buzz. Valentina Bonomo, for example, opened her space in 2002 on the ground floor of a 15th century convent in the city's Jewish ghetto district with a solo show for Italian artist Mimmo Paladino. Since then she's also nurtured international artists such as Franz West, David Tremlett, Glen Rubsamen, Sol LeWitt, Jannis Kounellis, Moshekwa Langa, Farhad Moshiri, and Jonathan Seliger. Bonomo has also banded together an art association with other Ghetto galleries whose activity coincided with the splashy launch of the Maxxi in 2010.

www.galleriabonomo.com (opens in new tab)