Studio Peragalli designs chef Carlo Cracco's new food destination in Milan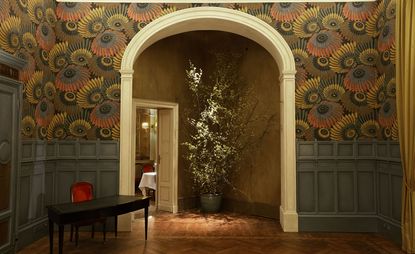 (Image credit: press)
When it comes to the design of grand public buildings and spaces, the Italians have the competition pretty much stitched up. Case in point is Milan's ornate and lofty Giuseppe Mengoni-designed Galleria Vittorio Emanuele II, long considered a high-water mark in Italian architecture and retail therapy. Less obvious, perhaps, has been the cruciformed gallery's food and beverage offerings, which have tended to be a little overpriced and uncomfortably crowded with exhausted tourists and resigned locals.
All of which makes the arrival of Cracco, on the Park Hyatt side of the gallery, such a boon, both for its sumptuous interiors by Studio Peragalli and its impeccable Milanese menu conceived by the titular Carlo Cracco.
Connected over three floors – a luxury of space, even by local standards – Cracco comprises café, soigné restaurant, a wine cellar holding over 10,000 bottles and 2000 labels, and a private events space with its own entrance on via Silvio Pellico.
In preserving and accenting the arched doorways, elaborately carved friezes and ornate wooden panel work, Milanese designers Laura Sartori Rimini and Roberto Peregalli of Studio Peragalli have cleaved close to the aesthetics and spirit of the galleria, though without descending into cliché. Instead, modern touches are lightly inserted into the intimate, moodily lit spaces which are anchored with rust-red carpets sporting whorls and circles, mosaic floors, tiles inspired by a Giò Ponti design, and bright wallpaper patterned with multi-hued daisies.
Headlining the menu, meanwhile, are black squid ink ravioli, roasted sweetbreads scented with liquorice, cocoa-encrusted turbot, and grilled blue lobster finished with cinnamon butter.
Somewhat less elaborate is the ground floor café – a garden-like setting dressed with hand-painted stucco walls, damask motifs, and a 19th-century Parisian bar counter – which offers pastry chef Marco Pedron's brioches and glossy dark pralines.
INFORMATION
ADDRESS
Galleria Vittorio Emanuele II
VIEW GOOGLE MAPS (opens in new tab)