Collaboration makes for happy designers, says Figma report
A report from online design platform Figma shines a light on new ways of working faster, better, together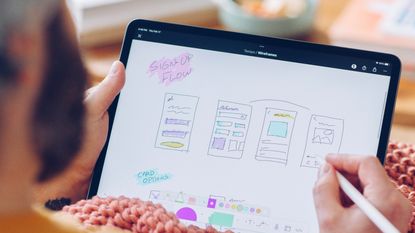 (Image credit: Courtesy Figma)
In partnership with Figma
Back in June 2023, at Figma's annual Config conference in San Francisco, 8,000 members of the brand's global community came together to discuss the future of design; new ways of working, how to encourage easier and open collaboration, and engender a faster, happier, more efficient workflow.
Why is design so important in the 21st century? In a world where digital experiences are pivotal, the speakers and attendees at Config agreed that the role of the product designer has never been more critical. That designers are not just making great digital experiences, but are also the guardians of their businesses' interface with customers, and creators of profound brand experiences.
'Design is much more than a department,' Brian Chesky, CEO and co-founder of Airbnb told the Config audience. 'It's a way of thinking about the world.'
'State of the Designer', the Figma design report
Chesky's comments echoed the findings of Figma's newly published 'State of the Designer' report, which focuses on the tricky task of creating collaborative magic across a distributed workforce.
Highlighting the forces shaping the future of work, and what sets the best teams 'apart from the chaos', these were some of the Figma study's key findings.
Product designers are happier than pre-pandemic, and remote work is working
The value businesses place on design is rising, and designers are feeling better about the design profession
Job prospects have improved, and 69 per cent of designers feel more positive about the future
With 95 per cent of product designers working remotely, as least partially, many feel more distant from their colleagues than before, meaning businesses should put a focus on culture and collaboration.
The report noted that the script for getting work done in product design – once synonymous with conference rooms and brainstorming sessions – is in a rolling state of constant rewrite. Across every industry, people have become accustomed to seeing cursors and avatars appear in files, documents, and presentations in the browser – just like we used to see faces around the office. The traditional, physical domain of collaboration has been augmented in a new era of 'multiplayer work' – one where we're all inventing our own ways to get our jobs done.
Ergo, Working From Home – WFH culture – proved a key topic for the Figma report, with 75 per cent of design talent across Europe and Asia saying that they are based at home more often than before the pandemic.
And while this shift happened suddenly, it mostly accelerated existing trends. Now, this 'new normal' has effectively normalised with distributed teams meeting in person less often. And while 'online shopping, eating out, sports attendance, travel, and many other activities are back to pre-pandemic trends', as Stanford professor Nick Bloom points out 'WFH – and related activities, like office occupancy and public-transit use – appear to have permanently changed.'
The report reveals an exciting transformation: the once solitary designer is becoming a team player, embracing group sessions to design products collectively more than ever before - even when they're physicially apart. But that's not all. Amidst the backdrop of remote work, designers are finding a renewed sense of purpose and satisfaction. They are not just creating – they're building stronger, more collaborative relationships with their teammates.
They're happier for it, too. Design + business = a powerful partnership. Designers who have a good grip on the business side of things often find their jobs more enjoyable. But let's be clear – it's a give and take. Businesses should also appreciate the value of design, and create an environment where designers can confidently display their strategic prowess.

When this mutual respect exists, it creates a dynamic balance – designers feel acknowledged, listened to, and appreciated. However, without this synergy, even the most business-savvy designers may feel disconnected. By fostering an environment that encourages collaboration, values meaningful work, and appreciates the strategic contributions of design, businesses can ensure their design teams thrive and contribute to superior products
Peel back the layers and it becomes clear that a company's success hinges not on its geographical location – but its ability to assemble the best possible team and nurture collaborative relationships. In the design world, a significant shift towards flexible, hybrid work styles is evident.
As for that notable 75 per cent of designers who have been working remotely more often, Europe leads the way – the UK is at 81 per cent, France at 83 per cent, and Germany, Austria and Switzerland at 75 per cent. The trend extends to the Asia Pacific region as well, with Australia and New Zealand reporting a high of 82 per cent and South East Asia at 60 per cent. However, the shift isn't as noticeable in other parts of the world, with lower rates in India and Japan – 56 per cent. And while 51 per cent of designers report that their employers encourage them to work where they feel most productive, a significant 36 per cent are still encouraged to work more from the office.
Despite these differences, 73 per cent feel they have more control over their work location than three years ago.
So, what's the big takeaway? Whether work is happening within the office walls or across digital platforms, the key lies in leveraging suitable tools, establishing productive rituals, and encouraging a culture that cherishes collaboration.
As Daniel Wert from Wert and Co shared in Figma's 2022 Design Hiring report, 'the thing people want most is to work with others they can learn from and grow with'.
Receive our daily digest of inspiration, escapism and design stories from around the world direct to your inbox