Ruark Audio's R7: the modern radiogram making waves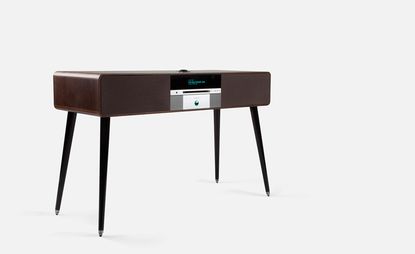 (Image credit: press)
Long gone are the days when families sat around the radio sharing in the joys of music and wonders of storytelling. But all is not lost for those seeking to hark back to those times, with Ruark Audio launching a sound system that it hopes will capture the essence of the good ol' days.

With the launch of the new R7 sound system, Ruark Audio has revealed the latest addition in its range of revival radiograms. Described as 'a statement piece, a focal point in the room to be admired and desired', the new sound system has been conceived as a conversation starter – an object of ornamental ostentation not designed to lay dormant in the corner of the room.

Although retro in its inspiration, the new system is very much modern in style. Through the use of precision-engineered aluminium and subtle glass panelling, the R7 evokes a beautifully sleek and elegant aesthetic that couldn't be further from the clunky wooden radiograms of the 1950s.

Conceived as a modern reinterpretation of the classic radiogram, the firm not only hopes that the R7 will arouse nostalgia but that it will also duplicate the durability of old-fashioned engineering. Ruark Audio professes that the new R7 is 'a system that defies expectation and like radiograms of old we believe it is a product that customers will value and enjoy for years to come'.
INFORMATION
For more information, visit Ruark Audio's website (opens in new tab)