Rich pickings: Picky Nicky's rococo a-go-go edit for a baroque Thanksgiving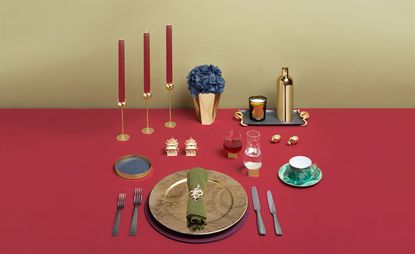 (Image credit: press)
This week's composition from WallpaperSTORE* is decorative, elaborate, a touch baroque and suitably eclectic – which is what makes it a winner for the holiday season that is kicking off right now. Get properly prepared for those full-on festive dinners, whether for Thanksgiving in a fortnight or Christmas next month, as nothing sets the tone more than a stunningly set table.
Find out more about Vanessa Mitrani's Highball cube gravity glasses here

Start things off with a golden plate decorated with a Medusa head by Versace for Rosenthal. Add a snake or two in the form of a napkin ring and a serpent handled tray from L'Objet. And why not finish things off with Vanessa Mitrani's delicate cube gravity glasses, a pair of pagoda-shaped salt and pepper holders (also from L'Objet), Tom Dixon's facetted 'Gem' vase and a trio of 'Tulip' candlesticks, by Pierre Forssell for Skultuna?
Find out more about Skultuna's 'Tulip' candlesticks here

Our very own creative market place for design, WallpaperSTORE* stocks, wraps and dispatches our pick of the finely formed and forward thinking from around the world

Nick Vinson, also known as Picky Nicky, has been an editor at Wallpaper* since 2012, curates the selection for WallpaperSTORE*, where he is general merchandising manager and also pens the monthly 'Vinson View' column in Wallpaper*
INFORMATION
Shop Picky Nicky's edit now at Wallpaper*STORE (opens in new tab)