Life is sweet: Pierre Marcolini captures quaint Parisian life with new chocolate boxes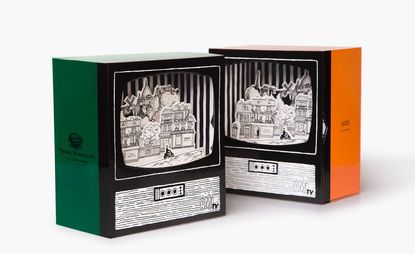 (Image credit: Pierre Marcolini)
Chocolate connoisseur Pierre Marcolini is back with a new collaboration that once again demonstrates his distinctive flair for cocoa craftsmanship and rich, visual storytelling.

For his latest vision, Marcolini employed the expertise of Alexandre Mattiussi, founder of Paris menswear brand AMI, to conceive a luxury chocolate box that evokes the alluring charm of the French capital.

It might seem like an unusual pairing at first glance, but Mattiussi was a wise choice for the design brief. Parisian culture has in many ways informed his artistic sensibility and inspired his style decisions.

The outer shell of the box is reminiscent of a 1950s television, revealing a fancifully quaint pop-up of Parisian life – capturing the narrow, serpentine streets lined with iconic landmarks such as the soaring Sacré-Coeur at the summit of the Butte Montmartre. The cute vignette also depicts Marcolini standing outside the front of his shop and Mattiussi proudly perched on his scooter.

Further drawing upon nostalgia, the chocolate trove inside contains Marcolini's latest addition to his Maison Pierre Marcolini range: The Barre² Chocolat – an ode to childhood that evokes the magic of trading snacks at the school gates through a subtle blend of softness and crunch.

Alongside The Barre² – which comes in caramel with a hint of vanilla and almond praline with hazelnut – the box also contains nine Pralinés Anciens d'Aujourd'hui, one of the Maison's signature collections.
INFORMATION
The Pierre Marcolini + AMI box is available in two colours: bottle green and burnt orange, from £45. For more information, visit Pierre Marcolini's website