The 1950s power boat has been revolutionised for today's eco-conscious audience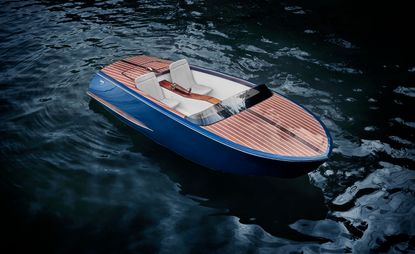 (Image credit: Chris Gordaneer)
Say 'pedal boat', hear sun-screen slicked plastic, gaudy colourways and soggy costumes. Beau Lake hears 'opportunity'. The Canadian waterside design company and paddleboard expert has created Runabout, a luxurious, human-powered paddle boat you never knew you wanted, but will be toppling sunbeds to have a go on.

More Lake Superior than Marbella, Runabout draws inspiration from Beau Lake partner Paul Lavoie's own 1950s Mediterranean-style 'pedalo', constructed with square wooden pontoons and mahogany seats. 'Traditional injection-molded plastic pedal boats stand out like sore thumbs,' says Lavoie. 'Nothing about them blends into the natural surroundings and architectural designs of today's cottage lifestyle.'
Replacing bulky and bright design with something a little more refined and muted, Beau Lake's co-founder and design director Lee Kline created early sketches based upon key 1950s and 60s silhouettes. They evolved into a model based on a 'reverse transom', where a slanting deck gives the boat a visual sense of forward motion.

'I have a long history working with fibreglass and carbon fibre, both in the architectural and boating industries,' explains Kline, who has a boat-builder's passion for materials, construction techniques are processes. 'The mid-20th century wooden boats Runabout is inspired by have also been incorporated into our paddleboard designs, through a lightweight veneer that is petrified within the resin and fibreglass construction.'
The backwards-looking veneer conceals a heft of forward-looking technology, brought about by a rota of impressive industry collaborations; the kind Beau Lake has become renowned for. Enter Steve Killing, whose progressive experience ranges from 1960s yacht design, to the ultra-modern hull and keel designs of America's Cup vessels. Working closely with Beau Lake's fiberglass builder, the growing team developed a tunnel hull (that uses two planing hulls with a solid centre that traps air); and the drive mechanism, which presented the challenge of transferring pedal energy into a propeller movement that would be both silent, highly efficient, and eco-friendly.

After tinkering with sub-assemblies, gears and complex design elements, the Beau Lake team developed a simple mirror-polished stainless steel drive shaft which connects to the Runabout's propeller, eliminating noise and surface splash by containing propulsion action beneath the water's surface.
The result is a smooth-sailing, Riva-esque machine, that at once harks to the romanticism of leisure boating's halcyon days, while heralding its progressive – and design-orientated – future.
INFORMATION
For more information, visit the Beau Lake website (opens in new tab)
Elly Parsons is the Digital Editor of Wallpaper*, where she oversees Wallpaper.com and its social platforms. She has been with the brand since 2015 in various roles, spending time as digital writer – specialising in art, technology and contemporary culture – and as deputy digital editor. She was shortlisted for a PPA Award in 2017, has written extensively for many publications, and has contributed to three books. She is a guest lecturer in digital journalism at Goldsmiths University, London, where she also holds a masters degree in creative writing. Now, her main areas of expertise include content strategy, audience engagement, and social media.