Skin deep: Pestle & Mortar launches first moisturiser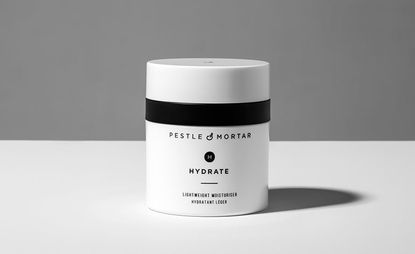 (Image credit: Pestle & Mortar)
Irish beauty brand Pestle & Mortar quickly became an insider favourite with its debut product, the 'Pure Hyaluronic Serum'. Their latest launch, 'Hydrate', is sure to take that popularity mainstream.

As the name suggests, Pestle & Mortar's 'Hydrate' is an all-over moisturiser. Keeping true to it's initial remit (giving instant results and visibly improving skin over time), the cream is packed with goodness; jojoba instantly softens skin, squalane aids quick absorption, and green tea and Vitamin E fight free radicals; while pomegranate extract and peptides help promote smooth, firm skin by boosting collagen and elastin production.

The tried and tested formula – and brand – is the brainchild of Sonia Deasy, a mother of five, global businesswoman and photography teacher. It was during her travels with her photographer husband, Padraic Deasy, that she first took note of the camera's ability to highlight dry, dull skin. Determined to create a product that worked whilst bringing a touch of luxury – without unnecessary fuss or expense – to her daily skincare routine, Deasy soon found herself launching her own beauty line. Starting with one product, the famed serum, Deasy's line will continue to expand.

Naturally free from all nasties (paragons, mineral oil, silicones, sulphates, propylene glycol and synthetic fragrances) the anti-aging, lightweight formula is packed in an airless container to ensure freshness. The monochrome packaging also reflects its simple (yet satisfying) ethos.

If ever a moisturiser was destined to become a cult classic, it's this one.
INFORMATION
'Hydrate', from £38. For more information visit Pestle & Mortar's website