Wallpaper's Christmas 2015 round up of the finest festive foods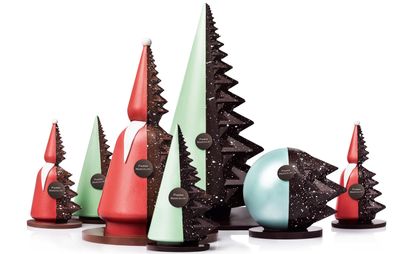 (Image credit: Pierre Marcolini)
Christmas is coming and we all know what that means – time to eat more. Whether you're in London, Paris, New York, or Milan, there's a host of edible annual treats you mustn't miss out on; it being the Christmas period, after all, is justification enough to indulge and spoil oneself.

If it's chocolates that you're after, we have plenty. Among our favourites is Pierre Marcolini's Christmas collection. Traditional characters and shapes have gone through a playful metamorphosis, transformed into snowy creations covered with glittering icicles – slightly eerie looking but enticing nonetheless. Alain Ducasse has kept it more traditional. Snowflakes, available in small or large, dark or milk chocolate, are a perfect gift – to give away, packaged in an attractive bag, or for yourself (they come replete with colourful string for tree hanging). Or for the more adventurous, how about a chocolate Christmas tree? Sold flat in a custom made box, it comes complete with a pair of white gloves to wear when assembling, sure to please the perfectionists.

Pastry comes in the form of Pierre Hermé's reworked classics, from an inviting stollen cake with a spiced pastry to superlative macaroons in exclusive seasonal flavours.

A more unusual addition comes via New York's Dominique Ansel Bakery, with a festive solution for those who can't break from their morning cereal ritual: a unique but genius concoction of Valrhona Caramelia chocolate rice krispies, caramelised hazelnuts and smoked cinnamon miniature meringues.

Not got a sweet tooth? There's no need to be disheartened. Pop in to one of The Ginger Pig's London stores to enjoy the 'butcher's special' Christmas sausage rolls of pork, sage Stilton and cranberry. Or head round the corner from their Marylebone outpost to the Chiltern Firehouse, where chef Nuno Mendes has added a new Christmas snack to his menu: a braised short rib and truffle roasted bun, made with the same dough as his feted crab doughnuts.

Finally, for luxurious presents – Christmas is, of course, the time of giving – Pasticceria Marchesi will easily meet requirements. In keeping with the sophisticated elegance of Milanese Christmas traditions, they provide nine gift selections for Christmas, with delightful packaging and equally exquisite ingredients.

No list could be complete without the traditional Christmas hamper. Fortnum & Mason – always a reliable choice – have a sprawling range, from the small 'Winter Warmer Basket', to the full-blown 'Imperial Hamper' – yours for a mere £5,000. It is Christmas, after all.