Collected Coffee: a passport to the world's best brew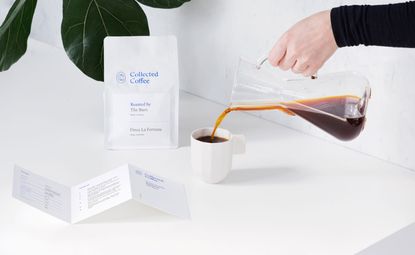 (Image credit: collectedcoffee.com)
Manhattan-based but globally focused Collected Coffee (opens in new tab) is a new monthly coffee subscription service that delivers a curated collection of international and hard-to-find roasted beans to your doorstep.

Founded by Lynette Lee, a coffee-lover, art editor and former design consultant, Collected Coffee was born out of a desire to share global coffee experiences, inspired by her travels to far-flung corners of the world. Assisting Lee is Andrew Ho, whose professional experience includes stints at notable locations such as New York's Box Kite, Little Collins, and most recently Supercrown, where he developed the coffee programme and trained the staff. Together, they form the Collected Coffee team, carefully evaluating each featured coffee for aroma, taste and mouth feel.

For their May launch, Collected Coffee introduces a floral strain that hails from Colombia's Finca La Fortuna, an estate native to the mineral-rich and volcanic Huila, which was then roasted by The Barn, in Berlin. Future collaborations will feature roasters like Amsterdam's White Label, Aarhus' La Cabra, Vancouver's 49th Parallel, Melbourne's Small Batch and Tokyo's Maruyama. The coffee is bagged by each partner roaster on site so as to decrease air miles and to ensure that the coffee is shipped fresh to its awaiting consumer.

The brand places itself at the intersection of culture, design and quality coffee. The white minimalist packaging design was conceived by Montreal-based design studio Fivethousand Fingers with the intention of showcasing the coffee and providing educational details. With each month's coffee, subscribers will receive interviews, and essays detailing the origin, roaster and process of selection, as well as a dialled-in brew recipe, designed to enhance the overall at-home coffee experience.

From Copenhagen to Melbourne, Amsterdam to Tokyo, it is clear that Collected Coffee is not just a new coffee brand but also a passport to some of the world's finest beans.
INFORMATION
A one-month subscription, which includes a 250g bag of whole-bean filter coffee with free shipping (in the US) is $25 (or $23 p/m for a three month subscription). For more information, visit Collected Coffee's website (opens in new tab)