April beauty news: editor's picks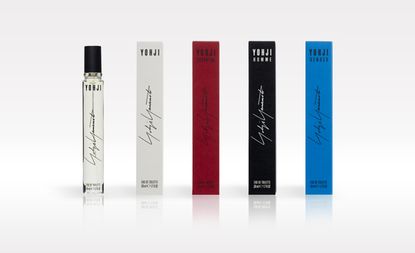 (Image credit: yohjiyamamotoparfums.com)
Yohji Yamamoto Fragrance relaunch

Veteran Japanese fashion designer Yohji Yamamoto has held his own on the luxury design circuit for over thirty years. Besides his eponymous clothing label and Y-3 (opens in new tab) collaborative label with Adidas (opens in new tab), Yamamoto also once tried his hand at perfumery. His quintet of fragrances originally launched back in the 1990s proved a hit among the fashion elite. Discontinued in the early noughties, the five fragrances are now being relaunched this summer with an additional scent added to the mix.
Heading the fragrance development was prolific perfumer Olivier Pescheux, who has revised each fragrance while keeping their fundamentlas intact. Expect traces of bergamot and sandalwood, overlain with different top notes for each. The nostalgic flacons are ever Yohji - understated and sleek - encased in either a red, white, black or blue box and the tall female fragrances open like a blossoming flower, inspired by Japanese origami and conceived by London-based art directors, VONSUNG (opens in new tab).

£28-£100; www.yohjiyamamotoparfums.com (opens in new tab)

Writer: Romy van den Broeke
Onico Salon, Osaka, Japan

Japan's healthy obsession with beauty salons has produced yet another gem - this time in Osaka's Kamishinden prefecture. Japanese architect Ryo Isobe has stripped the space bare, using its minimalist simplicity as a base around which to build Onica Salon's magical world. The unusual brief was to emulate an abandoned factory, in ruins that had been overtaken by a forest and its many hidden treasures. To that end, the most striking elements of the interior are the birch trees dotted around antique chairs and bespoke mirrors in the hairdressing section of the salon. These complement the selection of found objects and mismatched lamps hanging from the ceiling (natural elements and rough, unpolished surfaces are recurring themes in the architect's work). Isobe also created separate areas with definite identities, such as the shampoo lounge, constructed as a intimate grotto-like room with burgundy walls. These secluded spaces are connected to the main hall by vintage doors and rusty balustrades.

Toyonaka-shi, Osaka, Japan; T: 816. 6170 7854; www.onico.jp (opens in new tab)

Writer: Rosa Bertoli
Bold Brows

The dreadful trend of over-tweezed, tadpole shaped eyebrows is well and truly over. Bold, bushy brows dominated the catwalks of the S/S13 and A/W13 shows, and with model Cara Delevigne at the forefront of the big brow takeover, there's no better time to retire your tweezers and go au naturel. Here's our edit of the best eyebrow tints, eyebrow pencils and growing aids, to make sure your brows are bang on trend this year...

Writer: Romy van den Broeke
BareMinerals Brow Colour and Brow Brush

Eyebrow pencils can sometimes produce a look that is a little severe, so this eyebrow duo is designed to give a more natural finish. An earthy mineral colour and defining brow brush work together to fill in patchy or thinning brows.

Brow Colour, £11; Brow Brush, £10; www.bareminerals.co.uk (opens in new tab)

Writer: Romy van den Broeke
Browhaus Extend Lash and Brow Serum

This rapid-growth serum from eyebrow experts Browhaus is ideal for those with feeble follicles. The serum contains protein peptides to help eyebrows and eyelashes grow in a mere two weeks, and other vitamins and ingredients to keep the hairs protected.

Extend, £45; www.browhaus.com (opens in new tab)

Writer: Romy van den Broeke
Fluidline Brow Gelcreme from MAC

New from MAC as part of their brand new 'Art of Eye' make-up collection, this waterproof brow gel both colours and defines brows.

Fluidline Brow Gelcreme, £14; www.maccosmetics.co.uk (opens in new tab)

Writer: Romy van den Broeke
CK One colour brow pencil and gel duo

This two-in-one wand is compact and works efficiently. The pencil is angled to define eyebrows, while the clear gel and brush work to keep stray hairs in place and seal on the colour.

CK One Brow Pencil and Gel Duo, £14; www.calvinklein.com
(opens in new tab)
Writer: Romy van den Broeke
Beautiful Brows Kit

Available in five different shades to suit your skin tone, the Beautiful Brows Kit will ensure your brows are groomed to perfection. Essential tools include everything from slanted tweezers, shaping templates, brushes and eyebrow colours to suit your tones, complete with a pink highlighter to gently brush across below your brow. This kit has it all.

Beautiful Brows Kit, £38; www.beautifulbrows.co.uk (opens in new tab)

Writer: Romy van den Broeke
Balmain Paris: Styling for Hair Couture

Parisian fashion temple Balmain (opens in new tab) has dipped its talented toes into many different areas of the industry over its 68-year history - from haute couture, to ready-to-wear, to accessories and fragrances. Now the brand is turning its hand to 'hair couture' with a new range of styling products especially created to replicate professional products used backstage at its fashion shows. The edit includes an Argan Moisturising Elixir, Volume Mousse, Texturizing Salt Spray, and a Silk Perfume. The latter is particularly covetable - it diffuses over your locks with the help of an old-fashioned atomizer, leaving hair glossy and fragrant. Each product has been laced with a specially devised Balmain Paris fragrance and contains minerals that nurture locks. Hairstyling at home has just reached new heights.

Argan Moisturising Elixir, £22.95; Volume Mousse, £18.95; Texturizing Salt Spray, £20; Silk Perfume, £20.95; Silk Perfume Vaporiser, £19.95; www.thisisbeautymart.com (opens in new tab)

Writer: Romy van den Broeke
Le Labo Fragrances

Scent specialists and fragrance lab Le Labo know a thing or two about the art of smelling good, having collaborated with some of the world's best noses and perfumers to formulate original scents. Their most recent offering is this compact amulet, which gently diffuses your preferred scent to ward off bad smells - rather like a traditional amulet worn to fend off evil. The twelve classic Le Labo fragrances will be available in miniature glass droppers and portable capsules.

£47; www.lelabofragrances.com (opens in new tab)

Writer: Romy van den Broeke
& Other Stories Beauty Range

H&M has gardnered our devotion in recent times with its queue-generating designer collaborations and establishment of its brilliant COS (opens in new tab). The recent addition of a new capsule brand, & Other Stories, only proves the weight of its high street fashion credentials. & Other Stories stores opened over the month of March across the breadth of Western Europe, stretching from London to Copenhagen and Berlin. Primarily a clothing store adhering to a strict minimalist aesthetic, it has been launched with a comprehensive line of eponymous beauty products that retail alongside an edit of niche branded products, including L:A Bruket (opens in new tab) and Wash with Joe (opens in new tab). The well-presented range includes a wide range of make-up, body products and beauty tools.

www.stories.com (opens in new tab)

Writer: Romy van den Broeke
Owen & Stork Men's Grooming Range

Pacific-Northwest design outfit Owen & Stork has unveiled its inaugural offering to the world of men's grooming - a rather stylish shaving brush. Championing sustainable design, the brand work closely with local artisan manufacturers to realise and refine their products. The shaving brush combines hair from Silvertip Badger hair with a solid aluminium handle. It comes encased in a transparent container, which is nested inside a pale grey holder stamped with what it is and who made it. Just the first of larger line of Owen & Stork men's grooming products, this smart little brush indicates good things to come.

Silvertip Badger Shaving Brush, $215; www.owenstork.com (opens in new tab)

Writer: Romy van den Broeke
Youth Lab

Hailing from Greece, Youth Lab is a newly-launched range of grooming products, which focuses on simple essentials delivered in thoughtfully conceived packaging. Designed by Athens-based agency Mousegraphics, the retro futuristic aesthetics of the range were developed to convey notions of 'trust and intimacy' to its beauty conscious customers. The packaging alludes to the scientific research behind each formula, featuring a bespoke sans-serif font, monochromatic tonal-blocking and fluorescent hues laid over tubes and rough carton boxes. Exclusively available in Greek beauty parlours, the line includes all the beauty necessities such as wrinkle cream, sunscreen and a daily cleansing lotion.

Cellulite Free Serum, €22; www.mousegraphics.gr (opens in new tab)

Writer: Rosa Bertoli
Jack Moss is the Fashion Features Editor at Wallpaper*. Having previously held roles at 10, 10 Men and AnOther magazines, he joined the team in 2022. His work has a particular focus on the moments where fashion and style intersect with other creative disciplines – among them art and design – as well as championing a new generation of international talent and profiling the industry's leading figures and brands.