Paris Fashion Week Men's A/W 2020 Editor's Picks
As the menswear crowd makes a A/W 2020 final pitstop in Paris, we round up the standout moments from Paris' fashion capital, from OAMC to John Lobb, Y/Project to Paco Rabanne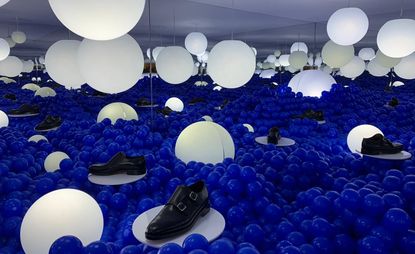 (Image credit: press)
John Lobb: The British shoemaker presented its A/W 2020 offering in a lavish Parisian apartment where set designer Thomas Petherick created two unique display rooms. Guests peeped through a view finder to see a Penrose triangle displaying the brands classic 'William' double monk strap shoe - originally designed for the companies grandson and celebrating it 75th anniversary this season. In another mirror walled room the same style sat amongst blue and white balls.
Kiko Kostadinov: The Bulgarian London-based designer moved his show from London to Paris this season. Overcoats and gilets appeared with exaggerated shawl collars, while trousers and jackets came with curved multiple zips allowing the wearer to adapt how they're worn. Elsewhere, structured jersey tops featured built shoulders, others came with keyhole harness. Debuting was Kiko's first standalone footwear collection featuring a lace-up shooter shoe and clog built on a Vibram sole.
Dries Van Noten:
In a vast concrete industrial space, models stomped in glam rock platformboots to a soundtrack of panting breath. The mood was dressed up - a floral devoré shirt came layered with a snug tartan bomber and faux fur stole thrown over the shoulders. Elsewhere, a deep purple velvet military jacket was cinched at the waist and teamed with faded blue jeans, while a louche knitted jumper came with a crystal adorned collar and leopard print blazer had blown up proportions.
Editions MR:
This season creative director Louis Wong looked to Romanticism for inspiration. Picture a Parisian existentialist dressed in a long beige coat nonchalantly thrown over a giant knitted roll neck, or a Nouvelle Vague actor wearing a neat corduroy suit. Elsewhere, the influence of New Romantic bands and there 80s wardrobes could be seen in generously cut blazers and trench coats. Blouson shirts worn with slim ties completed the look.
OAMC: Designer Luke Meier was thinking about strength and protection for A/W 2020. The silhouette was sharp and precise - heavy wool trousers, boxy tailored blazers and voluminous coats were worn with fluid shirts and exaggerated knits. Elsewhere, softly quilted military lining jackets and cargo pants were team together uniform-like. Small pouches were worn across the body with oversized straps, while padded leather totes were clutched at the wearers side. The brand continued its collaboration with Adidas Originals with the introduction of three new silhouettes.
Paco Rabanne: For his second menswear collection creative director Julien Dossena presented a series of elegantly fitted suits and glistening separates. Inspired by the 60s kinetic art movement and 90s minimalist design - a sharply cut black suit appeared from under a transparent caped coat, while a chainmail vest of the shimmering iridescent diamonds was worn over a sleek floral print shirt. Elsewhere, a long and lean brocade suit was teamed a skinny metallic knit roll neck, and a faux fur coat came with a snug helmet-like hood.
Y/Project: Guests stood in a huge balloon filled pit as models walked the edges to a fanfare march. The collection consisted of familiar sartorial items that had been distorted through twisting and layering. A suede blouson came doubled up as if two of them had been worn upon one another, this also occurred on shirts and trouser waistbands. Elsewhere, jackets came with exaggerated proportions, there shoulders broadened and waist lines cinched. A series of re-imagined parkas created in collaboration with Canada Goose closed the show.
Acne Studios: Guests sat either side of a thin wall installed inside the cavernous Carousel du Louvre space. Laid in buttery yellow vinyl on top of the wall, a large mirrored disc offered an abstracted glimpse of what was happening on the other side. A/W 2020 was designed in collaboration with generative artist Robbie Barrat. Barrat fed classic Acne Studios looks through algorithms called neural networks giving the clothes a layered, urgent haphazardness. 'I wanted the collection to be alive with new possibilities for how we wear clothes, while also being grounded in strange reality,' Jonny Johansson, creative director said. A coat was sparsely studded with diamanté. Hems were anamorphic.
Jacquemus: Guests were pushed through a throng of Instagram fans trying to enter Simon Porte Jacquemus's A/W 2020 show entitled 'L'année 1997'. A giant white square runway dominated the inside of the Paris La Défense Arena. A fleet of top models strutted his womenswear diagonally across the stage. For men, the look was workwear heavy – windowpane check cargo pants or in linens. Shirt jackets with pocket detailing. The clothes were all in sun-bleached shades of sage, saffron and biscuit. Trousers and jeans hung suggestively from boxer shorts waistbands.
1017 ALYX 9SM: Matthew Williams presented a rigorous, sexy collection of good tailoring, bejewelled denims and raincoats. The diamanté embroideries added opulence to the strictness. Presented in the Crédit Lyonnais headquarters, models walked along the glass floor and around bodily sculptures by Ewan Macfarlane raised on plinths. Some of the models wore limited edition BEOPLAY E8 Motion headphones, designed by Williams in collaboration with Bang & Olufsen.
Ludovic Saint Sernin:
The designer's erotic clothes riff on the glamour of 90s womenswear: his A/W 2020 show staged in the basement of the Palais de Tokyo included languid suiting, leather trenches and asymmetric sheer silk tops. The clothes lingered on the frame and caressed the skin. Swarovski noose belts were wrapped around the neck or clasped around the middle of a lean body.
Ann Demeulemeester:
Designer Sébastien Meunier presenter his A/W 2020 collection at the Sébastien Meunier 'Espace Oscar Niemeyer' building. Models walked slowly around the sweeping curved walls dressed in classic Demeulemeester codes. A sheer lace top appeared from underneath a softly tailored blazer, while silk wide leg trousers hit the floor. Elsewhere, a velvet military-style jacket, tightly belted at the waist, was worn with skin tight trousers and heavy raises heal boots. A generously cut wool coat with satin sleeves and cubby shearling chubby appeared sumptuous ivory.
GmbH:
Benjamin Huseby and Serhat Isik offered a new proposition on the silhouette of the tailored body. On coats and blazers, the elbow line was elongated and teased out. The mood was tough and sexy. Boots and shoes were angular and aggressive. Jeweller Marco Panconesi created pieces made of 100% upcycled stones caged in recycled brass and frozen in bio-resin. The look was sharp and futuristically prevailing. The show was cut in half with an operatic performance composed by Bill John Bultheel – his frequent collaborator Steve Katona walked the runway wearing a ribbed knitted dress, stopping to sing a mesmerising operatic tune.
Officine Générale:
Pierre Maheo is a designer not concerned with the seasonal whirlwind of hard and fast trends, choosing instead to quietly build on his brand aesthetic. For A/W 2020 he continued to refine items from the Officine Générale lexicon - Softly tailored blazers and military inspired bombers were teamed with double pleated baggy trousers. Elsewhere, overcoats and rain macs were updated with a new voluminous cut that cocooned the wearer. Neat blousons in leather and suede were teamed with slim fit jeans and Chelsea boots. A softly tailored rust suit worn with a plaid shirt and knitted tie exuded an air of casual elegance.
Rochas:
Federico Curradi staged his first runway show for Rochas inside one of the largest private theatres in the city. After seasons of more intimate presentations, this new format encouraged a sharper tailored line – a precision to the poetry: 'this man, for me, is a maker and a seeker: he creates beauty expressing himself with colours or words, by just being himself. The medium is not really important, the mindset is. A maker creates his own world and inhabits it, and that is reflected in the way he thinks, acts and ultimately dresses,' he said. Wools were cut into fluid silhouettes and fell from defined shoulders. The look was punctuated with gold jewellery, clipped to the rim of high leather boots, piercing the lapel of a sharp coat.
Sacai:
Stacks of concrete breeze blocks held together with neon straps acted as seats for the Sacai A/W 2020 show. Electronic beats filled the air as models dressed in designer Chitose Abe's signature hybrid garment combinations weaved in and out of blasting sound banks. A nylon MA1 bomber morphed into a wool overcoat, while a down jacket and tailored blazer was spliced together with a zip. The work of tattoo artist Dr Woo was printed on deconstructed sweaters, voluminous outerwear pieces and bags. The brands collaboration with Nike continued with the launch of the Vaporwaffle sneaker.
Pringle of Scotland:
Menswear designer Giuseppe Marretta was dreaming of flying into space and taking a walk on the moon for A/W 2020. The brand's Lion Rampant morphed into the Leo Zodiac star sign appearing as a repeat motif and embroidered badge intarsia knitted jumpers. Elsewhere, the space uniforms in sci-fi films and 1980s Japanese animation inspired a split argyle diamond shaped insignia emblazoned on the chest and arm of jackets.
Dunhill:
Models marched purposely on a high shine mirrored catwalk to a soundtrack provided by Moses Boyd in collaboration with poet and musician James Massiah. Elegant volumes ran throughout - generously cut double breasted jackets that fastened with a single button hovered around the body, satin cuffed trousers were worn with loafers and brothel creepers. A sweeping broad shouldered overcoat, lean blazer with sharp lapels and leather poncho added a touch of danger. Oversized briefcases with lizard details and quilted attaches resembling a classic car interior complete the collection.
Deveaux:
In 2018 the photographer Tommy Ton joined the New York-based label as creative director, ahead of its move into womenswear. Co-founders Matthew Breen and Andrea Tsao saw Ton's library of over one million street-style pictures as an education in the nuances of personal flair. The label pushed its wardrobing approach for A/W 2020 with the addition of more pop: a printed woven shirt inspired by market bags and a standout crinkled viscose blouson. 'As ever, each piece in the collection has been made to be life-proof; something that fits effortlessly into one's everyday wardrobe,' Ton said.
Bode:
Models walked slowly through a faded garden scape punctuated with carved wooded totems. Overcoats and suits were made from reclaimed equine show blankets, while a bowling shirts were lovingly hand beaded with a deco inspired pattern. Elsewhere, housecoats were constructed from hundreds of individually crocheted Merino wool fleurettes. Standout items included a Boy Scouts of America's 'Jac-Shirt' reinterpreted in red corduroy and adorned with deadstock souvenir and achievement patches, and the brands first foray into footwear - the Bode House Shoe, made to be worn outdoors but inspired by the comfort of domestic interiors
Namacheko: This season Dilan and Lezar Lurr collaborated with Gregory Crewdson on a series of exclusive pieces featuring the artists works. Sculpted coats, quilted capes and knitted jumpers were all wrap printed with photographs by Crewdson - a sophisticated 18th century method where the print is directly applied to each individual yarn. Parts of the collaboration will be available exclusively at the Gagosian gallery, New York in September.
Jack Moss is the Fashion Features Editor at Wallpaper*. Having previously held roles at 10, 10 Men and AnOther magazines, he joined the team in 2022. His work has a particular focus on the moments where fashion and style intersect with other creative disciplines – among them art and design – as well as championing a new generation of international talent and profiling the industry's leading figures and brands.