Trunk call: Moynat transports its 'joie de vivre' to the 2015 Chantilly Arts & Elegance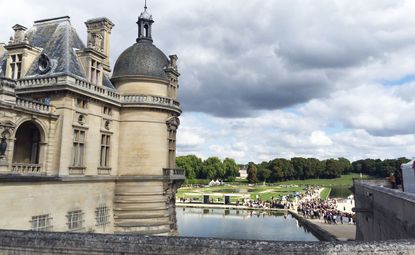 (Image credit: press)
When it comes to a study of French savoir-faire it is hard to surpass the past weekend's Chantilly Arts & Elegance (opens in new tab). Now in its second year, the event draws together classic car collectors and concept car enthusiasts for a festival of automotive appreciation, housed within the grounds of the majestic Chateau de Chantilly (opens in new tab).

However, in addition to the respective rallies and automobile parades, the elite event programme also included a world-class polo match, Bonhams car auction, black tie gala within the Chateau's Great Stables and a genteel garden party hosted by perhaps the world's quietest luxury brand, Moynat.

So what attracted the French leather goods maison that does virtually no communications and certainly no advertising to such an event? 'We were a pioneer in the automobile world,' explains Moynat CEO Guillaume Davin, who together with creative director Ramesh Nair (who worked at Hermès prior) discreetly relaunched the 166-year-old luggage brand in late 2011. 'We were the first trunk maker to patent an automobile trunk in 1902, which was designed with a curve to fit exactly on the roof of the very first automobiles.'

The story goes that founder Pauline Moynat wanted to respect the silhouette of the automobile, and therefore designed her Limousine trunks (opens in new tab) to precisely fit the curves of these early cars, without the need for a metal luggage holder. 'We are quite proud of it because it is far more difficult to do a curved trunk that a flat trunk,' adds Davin. They were similarly customisable in a range of lacquered hues to match the car's paintwork.

'She was also the only woman in that business,' he continues, of the brand that was established in 1849 (predating Goyard and Louis Vuitton) and then lay dormant from 1976 until Bernard Arnault bought the business through his private holding company and brought in Davin and Nair.

'Chantilly is going to be as equally beautiful as Pebble Beach, which is really about elegance, or Goodwood that's about speed,' adds Davin of the fledgling festival. 'But here, we have the French joie de vivre.'

A tour of Moynat's rue Saint-Honoré design room, located just above its flagship store, reinforces this spirit. 'It is 15 layers of paint,' explains Davin as an artisan hand paints 3D initials onto a tote bag. 'We don't use any patterns or screens. It is completely hand done in the size of your choice.'

This message is reinforced at the brand's atelier (opens in new tab), housed just a few streets away. 'We love the idea of doing things by hand and not using any shortcuts,' he says as a craftsman cuts leather pieces, which will make up the handle of their Sac Ballerine, (opens in new tab) with a scalpel. 'It is the reason why we stand apart.'

In addition to its patented curved trunks, Moynat is also renowned for its intricate leather marquetry (whereby intarsias are created by tiling hand cut leather patterns), and hand carved wooden clutch bags. Here, there are no bold logos. The beauty of these bags lies in the smallest details.

Even more surprising is that every single product for sale in the brand's three stores (Paris, Hong Kong and London included) is made within this 1st arrondissement atelier by one of the brand's 12 artisans under Nair's direction. A fact that has fuelled the premium brand's cult following worldwide.

'We don't say waiting list, but there is a waiting time,' says Davin of their artisanal production scale. 'We try shapes that are sometimes very, very strange,' says Nair holding up the dual zip Swing bag and a sample of a rippled bowling bag that he's still toying with. 'We keep trying out things all the time.'

'If Ramesh is convinced, it can go,' says Davin of the brand's streamlined design process. 'Sometimes we just make one or two,' adds Nair. 'That's the good thing about having this atelier.'

While slow and steady is clearly winning this race, Moynat's immediate future holds a new store opening in Beijing this October with plans for New York there after. 'Within the next 10 years we would like to be in the 10 capitals of the world,' says Davin as a Bugatti goes under the hammer for 1.4 million euros.