Winners of the inaugural Fashion Trust Arabia announced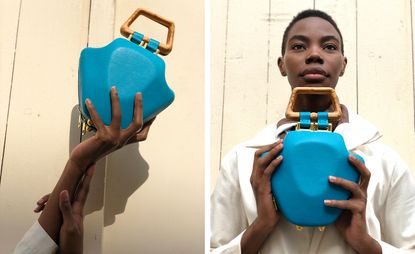 (Image credit: Sabry Marouf)
Last week, the Jean Nouvel-designed National Museum of Qatar opened its doors. Ten years in the making, the ambitious new space is comprised of 539 interlocking concrete discs, which jut out futuristically onto Doha's ever-evolving skyline. The museum is dedicated to the history of the Middle Eastern country, designed to bridge its two natural signifiers, 'the sea and the desert'.

Qatar's anthropological past was not only the talking point of the week. Leading global figures from not just the architecture world, but the fashion industry too, descended on Doha to attend the inaugural award ceremony of Fashion Trust Arabia – a non-profit initiative, launched to support design talent across the MENA region. The prize is the only one of its kind operating in the Arab world, under the patronage of honorable chair Sheikha Moza bint Nasser and co-chairs Sheikha Al Mayassa bint Hamad Al-Thani, and Lebanon-born Fashion Trust founder Tania Fares. It is also supported by Matchesfashion.

The Middle Eastern fashion market is making waves globally. 2018's 'State of the Global Islamic Economy Report', by Thomson Reuters and DinarStandard, estimates that Muslim shoppers spent $270bn on fashion in 2017. This number is set to rise to $361bn by 2023. Also in 2018, Farfetch announced a joint venture with Chalhoub Group, a behemoth distributor of fashion and luxury goods in the Middle East. Last week, Farfetch also announced its strategic investment – along with Nicola Bulgari, vice-chairman of jeweler Bulgari Group – in the modest fashion retailer The Modist.
The inaugural Fashion Trust Arabia prize was divided into five categories: 'Ready-to-wear,' 'Evening wear', 'Jewellery', 'Shoes' and 'Bags', with each winner provided with a bespoke amount of funding up to a maximum of $200,000, dependant on the commercial status of their brand. A prestigious judging panel and executive committee presided over the winning designers, including Valentino's creative director Pierpaolo Piccioli, Victoria Beckham, chairman and CEO of Moncler Remo Ruffini and Matchesfashion buying director Natalie Kingham. 'I'm really looking for the authenticity behind a design,' Kingham explained of her judging approach. 'Even a small concept can be developed into something amazing. It's about talent, as raw as you like'.

Despite the fact the world appears a smaller place due to international e-commerce websites and the global visibility gained through social media, talent can be difficult to cultivate across the MENA region. During the awarding process, which allowed judges and journalists access to each shortlisted designer, operating from territories including Kuwait, Morocco, Lebanon, Egypt and Tunisia, many expressed their difficulty in accessing fabrics and materials, working against import and export sanctions, or gaining trust from European fabric mills and factories. The international visibilty of Fashion Trust Arabia hopes to provide an antitode to such issues.

'The output of the shortlisted designers is truly diverse,' explains Olivier Rousteing, Fashion Trust Arabia judge and Balmain creative director, who is renowned for his opulent and heavily embellished evening wear. Haute couture is particularly synonymous with the Lebanese region. Shortlisted bespoke brands included Beirut based, Azzi and Osta, Hussein Bazaza and Sandra Mansour.

'The need for different types of clothing has evolved, like daywear and separates,' adds founder and creative director Erdem Moralioglu of the aesthetic evolution of Middle Eastern fashion. A host of ready-to-wear designers placed focus on sports and streetwear silhouettes and highlighted their sustainable practices, like Paris and Tunisia-based BassCoutur, who create casual wear items using recycled fabrics and deadstock, and Moroccan Karim Adduchi, whose smart tailoring is crafted using fabric manufactured from seaweed and bamboo, and recycled fastenings.

Not one but two designers scooped the 'Ready-to-wear' prize: Salim Azzam, who works with women where he lives on Mount Lebanon, to create beautifully socially-conscious embroidered shirts, using traditional techniques, and Beirut-based Roni Helou, the first graduate of the 2011-founded free fashion school Creative Space Beirut. His colourful, deconstructed and sporty shapes are made from deadstock fabric like waxed chiffon, and do not use leather or silk. 'As a community we need to stick together,' Helou enthused of the uniting focus of Fashion Trust Arabia.

Beirut-based Krikor Jabotian went home with the 'Evening wear' award. The designer operates a 40 person-strong business which launched in 2011, and produces breathtakingly sculptural pieces adorned with feathers and intricately embroidered details. With his prize, he hopes to evolve his business globally, which predominantly operates in the Gulf and Lebanon and expand into ready-to-wear. Indian-Lebanese sisters Maya, Meena, and Zeenat Mukhi picked up the 'Jewellery' Prize, with their stacked rings of precious stones and colourful naturalistic earrings, while Moroccan label Zyne scooped the 'Shoes' prize with its babouche-inspired mules, inspired by the footwear sold in Casablanca souks.

'We're reinterpreting the history of Egypt into something new,' said Daki Marouf, one half of accessory label Sabry Marouf who won the 'Bags' prize. Marouf and Ahmed Sabry create sculptural minaudière in coloured Plexiglass, and reclaimed wood in shapes inspired by Ancient Egyptian headdresses, Scarab beetles and the symbolic Djed pillar. 'The story all started with the death mask of King Tut,' Marouf explained.

Qatar's global status will reach starry new heights when it hosts the World Cup in 2022. Last week's calendar of cultural extravaganzas, which also included the Naked Heart Foundation Ball is just a precursor to this. 'A designer's geography shouldn't dictate their level of outreach,' Erdem Moralioglu adds of the impact of Fashion Trust Arabia. New international heights are promised for each of its winners.
INFORMATION
For more information, visit the Fashion Trust Arabia website (opens in new tab)