Post-Imperial's uplifting clothing celebrates artisans across Africa
Niyi Okuboyejo's clothing is made in collaboration with creators and makers across the continent; people who he describes as being 'narrators of their own stories'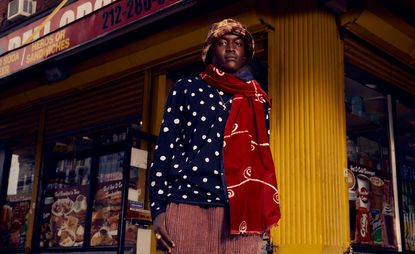 (Image credit: press)
Almost a decade after launching his menswear label Post-Imperial, the Nigeria-born, America-raised Niyi Okuboyejo finds himself finely balanced between activism and enterprise. 'A seat at the table is great but it shouldn't be the sole thing that should define you because, when you do that, you give people power that they don't need to have,' he says. 'I don't care to dismantle the status quo. I am more attracted to a kind of protest that is more silent.'

Okuboyejo doesn't declare his politics on the front of a t-shirt or through postured postings on social media – he's more interested in decolonising systems, humanising the materials he works with, and adding empathy and grace to the process. His happy clothes – Funtua cotton shirting, marble-dyed deadstock chenille sweats and hats, adire-dyed velvet suiting – are made in collaboration with artisans across Africa. 'Power is an abstract thing and I don't think you can ever dismantle an abstract thing but, for me, in an ideal world, dismantling power would be the goal because there's always a dynamic of control over something or someone. And I don't like that,' he says.
In the midst of global political unease the point of a project like Post-Imperial becomes more acute: 'The people that I see interacting in this cultural setting, it's almost like they don't really want to dismantle the system. They just want to get the advantages of it to work for them. I think we should have an exchange of equal weight – you do this and I do this, it benefits us both.' The people Okuboyejo works with are, he says, 'narrators of their own stories. Post-Imperial is the conduit.'

He doesn't set rigid parameters for his collaborators, but allows for their own hand to show through. 'It might mean that polka dots come out slightly bigger than planned or we have to change the way we think about something but, that's ok! Whether we like it or not, stories are not as definitive as we think.'
INFORMATION
London based writer Dal Chodha is editor-in-chief of Archivist Addendum — a publishing project that explores the gap between fashion editorial and academe. He writes for various international titles and journals on fashion, art and culture and is a contributing editor at Wallpaper*. Chodha has been working in academic institutions for more than a decade and is Stage 1 Leader of the BA Fashion Communication and Promotion course at Central Saint Martins. In 2020 he published his first book SHOW NOTES, an original hybrid of journalism, poetry and provocation.