Paris's 25th Biennale des Antiquaires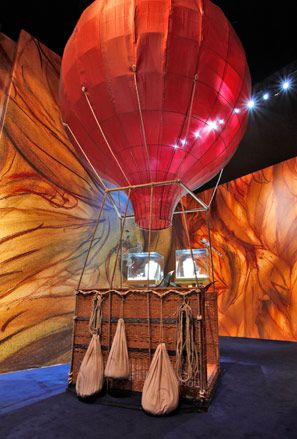 (Image credit: press)
Last week saw the start of the 25th Biennale des Antiquaires in Paris, an event that has increasingly become an important date in the high jewellery calendar. And to acknowledge the spending power of the attending clientele, seven jewellery brands - from the seasoned Houses of Cartier and Van Cleef & Arpels to new exhibitors Louis Vuitton and Piaget - produced entire collections specifically for the fair.
And seemingly to acknowledge that those purchasing already have a significant jewellery collection (it's becoming increasingly rare for high jewellery clients to need to buy a classic piece and wear it repeatedly), the pieces presented were more outre and fantastical than ever.
As if to emphasis this, Van Cleef & Arpels displayed 'Les Voyages Extraordinaires', a collection based around four books by Jules Verne, in a series of theatrical room sets, which included a hot air balloon ([I]5 Days in a Balloon[/I]), and a submarine ([I]Twenty Thousand Leagues Under the Sea[/I]). Though not exactly to the scale of jewellery, Van Cleef's deft use of big, coloured stones, large sautoir necklaces and endearing animal representations more than held up to the dramatic setting.
Cartier similarly stuck to its brand DNA, sweeping strings of gemstone beads punctuated by show-stopping engraved emeralds - all a familiar reverie referencing its long association with India. But the collection was marked by a move towards the use of pearls and opals, (a new trend visible among many brands), and a series of stand-out cuffs that concealed watches behind large carved gems.
Across the jewellery corridor,
Louis Vuitton marked its debut with an addition of 80 new pieces, including an extension to the 'L'Ame du Voyage' collection of 2009. Necklaces swirled around the collar bone in ribbon-like waves and loops of gem-set metal, marking the House both as an innovator in design, and one that will surely reach out to the increasingly younger clientele able to dabble in regular purchasing.
As the only American jeweller invited to attend the Biennale, Harry Winston showed due reverence by dedicating his contribution to Paris itself in a collection called 'The Royal Garden'. Extraordinary stones - both in colour and clarity - sourced over several years were set in unexpected combinations; a pair of earrings in diamond, spinel and pink sapphires of the palest hue were a Biennale standout, and large topaz, mandarin garnets and morganites were given due respect with trademark minimal settings and finely balanced strands of diamonds. With perhaps the most restrained offering of the fair, Harry Winston still showed a marked shift towards offering something of the flamboyant aesthetic that seems to be so eagerly consumed by those driving the trends in haute joaillerie today.