Female intuition: Officine Générale debuts womenswear collection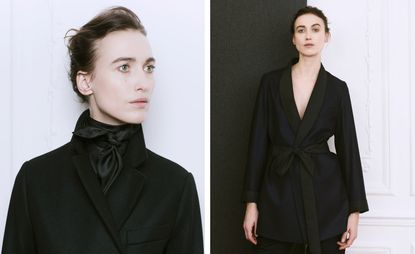 (Image credit: Officine Générale')
Fashion designers would be forgiven for taking some downtime after the frenzy of a seasonal fashion show. But relaxation didn't cross the mind of Pierre Mahéo, the founder of renowned Parisian menswear label Officine Générale. He created the brand's first womenswear collection four weeks after its men's A/W 2017 show in January.

'It suddenly became evident that I had to do it immediately – now or never,' Mahéo says. 'I knew exactly what I wanted to do. For example, I always knew I'd be inspired by a vintage jacket I bought two years ago in Brooklyn. We worked on the patterns, the toilles and the fittings, all in three days.'

It's a launch that has been met with jubilation by female followers of the brand, who've invested in Officine Générale's reasonably priced menswear staples, like merino wool jumpers and poplin shirts for themselves, since its launch in 2012.
Stocked at 130 retailers worldwide, the brand dipped its toe into womenswear in 2015, for Le Bon Marché's 'Stolen from Men' space, which saw menswear designers redesigning signature styles for women. 'I made a men's jacket in smaller size' Mahéo explains. 'It's a style point of view I respect, but not all women will go for it. The fit and cut is really important in what we do, and I wanted the it to be very precise for women'.

For his female audience, Mahéo has capitalised on his renown for timeless and affordable wardrobe classics. There are silk smoking jackets, bib collar shirts, velvet and herringbone blazers and double-breasted coats. The collection is notably androgynous – lacking skirts or dresses, but it does contain flourishes of femininity, from the ruffled neck of a shirt to the insouciant styling trick of a silk neck scarf. One coat style, created in navy Italian wool features oversized pockets and a slimmer insert the size of a newspaper. 'It's a coat detail that tailors used to create,' he says. 'Today you could carry a mini iPad inside instead.'

'There is a total disconnection between quality, value and price point,' says Mahéo of the retail pricing within today's luxury sector. The fabrics of his debut womenswear line are sourced in the United Kingdom, Italy and Japan, and the clothing is produced Portugal. However, they maintain a competitive price point. 'My garments will never come out of Chinese factories,' he says. 'I'm taking the standout elements of my menswear line and putting it into the women's collection. In the end your brand should always be about quality.'
INFORMATION
For more information, visit the Officine Générale website