N°21 designs pencil skirts for every day of the working week
In celebration of the Milan label's tenth anniversary, founder Alessandro Dell'Acqua releases a 12-piece collection of pencil skirts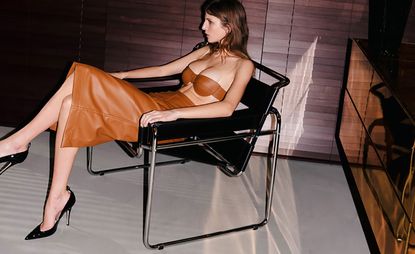 (Image credit: N°21)
It's well known wardrobe wisdom that should you find a timeless personality-suited piece which you'll want to wear forever, you should invest in not just one of them but several. It's a practice that N°21 founder Alessandro Dell'Acqua is also preaching for his latest collection – a 12 piece offering of nine-to-five friendly pencil skirts in a range of feminine fabrics – which celebrates a decade of the Milanese house.

On the A/W 2020 catwalks back in February, the knee skimming skirt was a sophisticated standout silhouette, seen at brands including Prada, Dior and Victoria Beckham. While we've become accustomed to more slouchy silhouettes since then, autumn ushers in more executive chic shapes, whether you'll be working from your home office or getting back to the boardroom.
Alessandro Dell'Acqua has long been acquainted with seductive shapes. For N°21 he brings a subtle subversion to feminine silhouettes, like party dresses, cardigans and workwear, experimenting with nude tones and extravagant embellishments including beading, shimmering sequins and leather. For his anniversary collection the pencil skirt has been constructed using surplus deadstock fabrics, like soft check, tweed and zebra print. In an eco-aware nod, production of each style is dependent on how much archival fabric exists.

Lingerie has also been a focal point of Alessandro Dell'Acqua's aesthetic. Powdery undergarment-inspired tones punctuate his collections and there's often a sense of undone-ness to his silhouettes. For S/S 2020 the designer even sent out a pair of gauzy nude briefs for his show invitation. The skirts in N°21's 10-year collection are also accompanied with a matching bra. When working from home, we suggest you save that piece for the bedroom.
INFORMATION