New York Fashion Week blog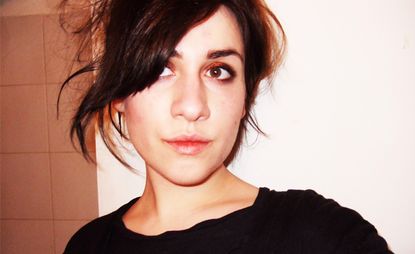 (Image credit: press)
Wallpaper* Newsletter
Receive our daily digest of inspiration, escapism and design stories from around the world direct to your inbox
Thank you for signing up to Wallpaper. You will receive a verification email shortly.
There was a problem. Please refresh the page and try again.
Each year Dutch denim brand G-Star Raw has awarded a prize to the most promising fashion graduate from one of the seven Dutch fashion academies. 2009's recipient was young Belgian designer Ann Boogaerts of ArtEZ Institute of the Arts in Arnheim and, alongside the €10,000 prize, she took a trip to NYC to help with the G-Star Raw show at fashion week. As well as helping out, she chronicled her experience from beginning to end specially for us...
What does it mean for you to have won the G-Star Raw Talent Award?
It means a lot. It's an honour to be voted the 'winner' of this contest. I am very grateful for it because I had the chance to experience a lot and I've met some wonderful people. The media attention I got was enormous but being creative and working out of the spotlight is what I really want to do in the future.
What has happened to you since?
Right after the award I moved to Paris to spend a year at the IFM (Institut Français de la Mode). I had planned to go to Paris before I had won the G-Star Raw Talent Award and I felt it was important to stick with my plan. It's great to experience life in the fashion world in Paris - working and learning with and from new people.
Have you always wanted to be a fashion designer?
I have to admit and I know it's such a cliché, but yes! Maybe it's because I grew up in a stimulating environment with a grandmother in textile arts and a mother and grandfather who were both sculptors. Or maybe there was something in the air in Belgium....
Who inspires you?
Just two of the many: Roman Polanski and Maarten Baas.
What makes you different?
I don't know, but if I want something to happen, it just has to happen. I'm never satisfied with what I have created first time. I always go over and over until it's 'perfect'. Often though I find the first effort was the best. What really makes the difference is the kind of air-pollution I breathed in during my childhood, I think.
What are you working on now?
I'm now working on a new personal clothing collection. I'm still at an early stage of the process, so after finishing my concept and mood, I'm starting to actually make it. I really love this part - to dream and create something new, so wonderful!
"Jumped into a yellow cab at JFK airport. For a moment I felt like a character in Tarantino's Death Proof. I feared my life and thought I was going to spend the rest of the week in a hospital. Luckily that didn't happen. I arrived, alive, at the ACE hotel at Broadway, and I was impressed by its lovely design, warm-hearted staff, and fizzing atmosphere."
"There were a lot people, the Hammerstein Ballroom was packed and the atmosphere was electric. The lively G-Star silhouettes in combination with the music, models and lighting made it into a spectacular show. The skirts were bouncy and the beats were up."
Receive our daily digest of inspiration, escapism and design stories from around the world direct to your inbox