Eastern promises: highlights from Mercedes-Benz Fashion Week Tbilisi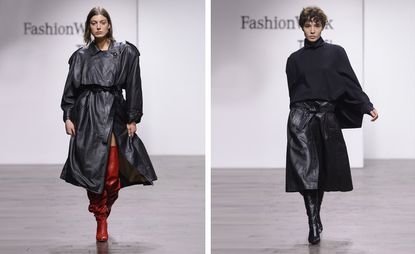 (Image credit: TBC)
Picture the scene – a courtyard with cedar trees casting shade and a troupe of models parading mottled sequin bow blouses and palazzo pants; faded blue denims with flashes of embroidery and love worn chintz suiting. For the finale, the girls filed up to the balcony of this genteel 1905 Tbilisi heritage building, the Writers House.

Central Saint Martins trained Maka Dalood launched her label in 2013 and has boutiques in Tbilisi and Moscow. She is one of a generation of Georgian talents who is helping raise the cultural capital of the country. With a population of nearly 3.7 million, this former Soviet Republic state has a vibrant style scene that reaches out to cafés, bars, restaurants, boutiques, photography, theatre and music.

It is the magic of the turn of the century heritage buildings (some in the process of being restored), combined with the leafy green streets and hip design enclaves that give Tbilisi a beguiling charm.

In the burgeoning Vera district, find the Chaos Concept store that boasts an indoor concrete skate ramp; Datuna Store – owned by designer Datuna Sulikashvili – the vintage modern designed Rooms hotel (in a former printing works), and a smattering of new restaurants such as Café Manû, and Keto and Kote.

Mercedes Benz Fashion Week Tbilisi gathers together Georgia's best as well as guest designers – this year, Juan Carlos Pajares from Spain and Bibi Bevza from the Ukraine. The indefatigable entrepreneur Sofia Tchkonia supports the event personally in addition to funds from the Georgian Tourism Authority and sponsorship. She also runs a fashion design contest called BeNext.

In an era when fashion's weathervane is firmly pointed at a generation of Russian and Post Soviet designers the big question is how long will the bubble last? The taste for empowered tailoring with a post glasnost flavour, deconstructed sportswear and denim (à la Vetements), and vulgar/chic leather is the zenith of chic for A/W17.

Yet these designers prove they have more strings to their bows. Datuna, who dresses the first lady of Georgia, delivered soigné, sultry evening wear including metallic lame trapeze gowns; evening capes and silk trench coats over thigh high boots. 'I don't usually take trends into consideration. The woman I create for doesn't change too much from season to season. I think that today's fashion needs beautiful shapes and flowing lines – the client wants to remain womanly,' she says.

That sophisticated focus, raises the game above hype and trend. Tamuna Ingorokva, who showed in the cavernous warehouse at The Silk Factory, has minimalist handwriting and delivers great raglan-sleeved coats, outsize tailored tracksuits and sculpted ribbed knits. Situationist, the popular label by Irakli Rusadze was another highlight with distressed paper thin leathers crafted into raglan-sleeve jackets, salopettes and sweeping bouncer-style trench coats.

While Georgia does not boast a big tradition in fabric production it does boast excellence in footwear. Le Mocassin Zippe was founded in 2013 with its signature zip decorated loafer, while Crosty is a new line of handcrafted leather sneakers. And a burgeoning e-commerce business with sites including N-Duo-Concept.com; More is Love and the just launched, Buyers.Ge.

One of the brilliant surprises was the label, Tamra. The designer, a multi-media artist called Tamuna Karumidze, cast skate kids to show off her brilliant patchwork coats, punkish kilt skirts and padded jackets in vibrant mixes of brocades, stripe shirting and silks. As her street heroes slid down a ramp at the side of Moma Tbilisi museum and slugged sparking wine on the sidelines – it was great to behold the energy of DIY at a time of global fashion sameness.
INFORMATION
Mercedes Benz Fashion Week Tbilisi ran from 4-8 May. For more information, visit the website (opens in new tab)