Istanbul Contrast exhibition of work by Dice Kayek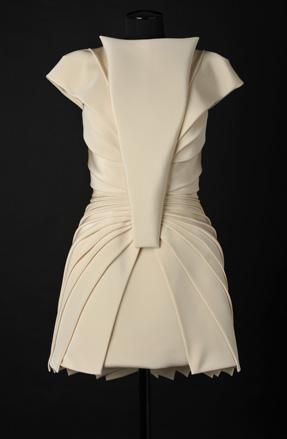 (Image credit: Dice Kayek)
'Fashion is architecture,' as Coco Chanel memorably proclaimed, and a new exhibition at the Istanbul Museum of Modern Art explores the synergy of the two disciplines. Turkish fashion brand Dice Kayek (opens in new tab) has taken aspects of Istanbul - including some of its most iconic buildings - and translated them into sartorial form.
The exhibition's 12 themes include 'Istanbul by night', 'Bosphorus' and 'Dome' - with certain designs channelling specific architectural icons. The metallic embroidery of Dice Kayek's 'Galata' dress, for example, echoes the cast-iron latticework of the Galata Bridge; the intricate embroidery of the 'Aya Sofya' gown was inspired by the mosaics of the Haghia Sophia museum; and the geometric shapes of the five 'Istanbul Modern' designs evoke Istanbul's contemporary architecture.
Established in 1991, Dice Kayek is one of Turkey's most acclaimed fashion labels. Now based in Paris, the brand's designer Ece Ege has drawn inspiration from her city of birth for these 26 designs celebrating the diversity, history and architecture of this famous intersection of cultures.
The collection was previously exhibited at the Les Arts Decoratifs Museum of Paris in March, but five new designs have been created specifically for the Istanbul Contrast show. A sculptural installation - 'LogForest' by Arik Levy of LDesign (opens in new tab) - was also specially commissioned.