Gucci Museo opening, Florence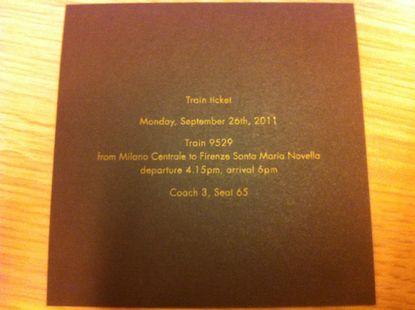 (Image credit: press)
What better way to get fashion types on the Gucci bandwagon than to invite them on a private train to Florence. Indeed creative director Frida Giannini was using her typical prescience when she chartered a 'fashion express' to collect guests - including Wallpaper's special projects director, Nick Vinson - at Milan Central in honour of the house's 90th anniversary. The destination: the new Gucci Museo, launching tomorrow in the 14th-century Palazzo della Mercanzia.
A fleet of Bentleys transported the fashion pack from Santa Maria Novella station to Florence's Piazza Signoria, where the Museo waited to receive its first visitors since the Florentine brand conceived of the project (the palazzo used to serve as the Gucci HQ until Giannini relocated the team to Rome; in Tom Ford's time they were in London's Mayfair).
The company's in-house architecture team, responsible for retail design, did a brilliant job with the museum interior, no easy task when you're dealing with such an old structure. Guests were invited to explore the three-storey space, though the highlight was the ground-floor Travel room, displaying not only the label's iconic luggage pieces but also a 1979 Gucci-branded Cadillac Seville, sourced from a very careful owner in Florida.
Upstairs, exhibits are dedicated to evening wear, handbags, rare valuables and florals (Gucci's Mondo Flora 'wallpaper' was a high point). And the top floor devotes itself to the company's logo, particularly the recently reissued double-G monogram.
House archivist Grazia Benneri has been beavering away for the past 15 years, amassing a collection that now runs into the thousands. Bags, shoes, luggage, jewellery, ready-to-wear, homeware and even surfboards and flippers form the Gucci archive, much of which is stored in the museo's private basement vault.
Giannini added to the collection items of inspiration: tomes made available at the ground-floor bookstore, run by Rizzoli; canvases displayed in the Contemporary Art Space; even films that will screen regularly at the in-house cinema. The absence of any reference to Ford's era at the brand (1994 to 2004) was noticeable, drawing more attention than if even a small selection of greatest hits had actually been included.
Guests were nonetheless delighted to proceed to the Palazzo Vecchio for a private dinner, followed by a performance by Blondie, featuring Debbie Harry in a platinum wig and a fierce pair of sparkly Gucci pumps.