Akris S/S 2019 Paris Fashion Week Women's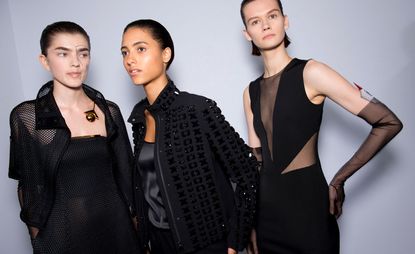 (Image credit: Jason Lloyd-Evans)
Mood board: This season, Akris traded the Palais de Tokyo for the Pavillon Ledoyen to present the brand's latest collection. Situated just behind the Petit Palais, the permanent tent with transparent walls might have been a different setting, but the Swiss house remains as consistent as ever when it comes to the style and the philosophy of its collections. This time, Albert Kriemler – aka the man who, every season, teaches the fashion crowd a new and fascinating art history story – built his collection through his relationship with a female artist.
Team work: Kriemler met the Romanian artist Geta Brătescu last year at documenta Kassel in Germany, and would bump into her again when she represented her country at the Venice Biennale in 2017. That sparked the beginning of a collaboration built on the artist's wide-spanning work, which went from dismally grey life-size magnet sculptures (displayed, back in the 70's, in the streets of a Soviet-era Bucharest… and in the catwalk during the show) to later-in-life, more playful and colourful collages. Sadly, the nonagenarian Brătescu never got to see the fruits of the collaboration: she died two weeks ago.
Best in show: The collection then came across as a moving – and technically accomplished – homage to her, starting with a series of trouser-top and jacket ensembles featuring a digital print of the magnet sculptures, and evolving progressively, almost imperceptibly towards more colourful looks including a long ivory dress with an overblown abstract print and chiffon numbers with her red figure collages. Elsewhere, there were pleated skirts in pale blue and silk evening dresses in shades of neon pink and peach.