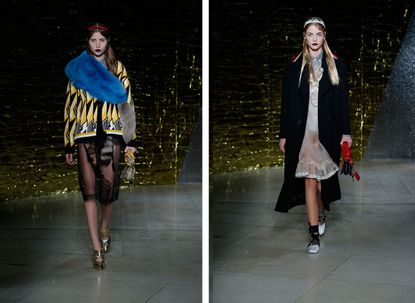 (Image credit: TBC)
Mood board: Miuccia Prada gave us bare buns, ballet slippers and a bunch of slightly deranged housewives in her spring Miu Miu collection that came roaring out against a monolithic backdrop lined in gold and silver foil. The housewifery came in the form of house dresses and ruffled pinafores that were cut from seductive sheer tulle and layered over everything from office-esque long pencil skirts, cropped tailored pants or bare underwear that let the models' behinds do all the talking.

Best in show: Nobody mixes a pattern better than Ms Miuccia so when the Milanese maestro threw her thick, diamond-esque retro patterned skinny skirts together with boxy leather jackets that had fabulous feather-droplet like intarsias, she was right on her game. Also hot to trot next season? The boxy, bulky cardigan that comes woven in a multitude of cool colours and graphic patterns.

Finishing touches: When it came to the feet, Miu Miu dipped half in the 1970s with a sky-high, psychedelic boot that featured colourful intarsias up the suede body and some fancy rhinestone work along the gigantic platform sole. For easier transportation, she offered ballet slippers that came bound with thick black ribbon, tied with a tough edge.