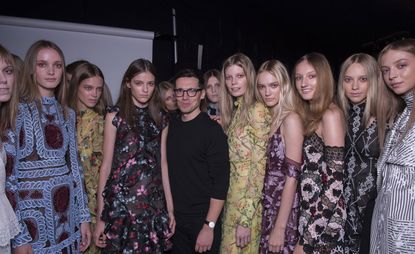 (Image credit: Jason Lloyd-Evans)
Scene setting: Starting in pitch darkness, the Erdem show began with a moving carriage way of female pioneers clutching at basic furnishings and suitcases, barely visible under dimly lit porch lights to the sound of close thunder and heavy rain within a former Kings Cross freight yard. Erdem Moralioglu's models soon appeared walking two earthen runways up a checking station footbridge on one side and down the other. Paired with the clothes' Victoriana semblance, the whole scenario had a mid 19th century frontier spirit to it just like a scene from The Piano. In actual fact the backstory referred to Abraham Lincoln's 1862 Homestead Act, which gave single women and widows (mainly streaming into America from Europe) the right to their own plot of land in the West if they stayed five years.

Mood board: There is always an undercurrent of darkness to an Erdem show, no doubt to contrast his deeply romantic feminine ruffles and lace, and this season it came from this nod to how isolated life must have been for these women alone on the prairies. Moralioglu's predominant Victorian silhouette was cut high at the neck with cascading tier of flounces to the mid calf. Some came with balloon sleeves that liberally puffed at the elbow, while others were cut-away from the shoulder altogether, showcasing an on-trend flash of the clavicles. These floral silk portrait dresses soon segwayed into virginal white cotton or ticking stripes, which brought to mind a lady's undergarments on washing day.

Best in show: Moralioglu's dolly lace cocktail dresses had a graphic undercurrent to them that will see them being swept away by the red carpet in good speed.
INFORMATION
Photography: Jason Lloyd-Evans