Dior A/W 2020 Paris Fashion Week Women's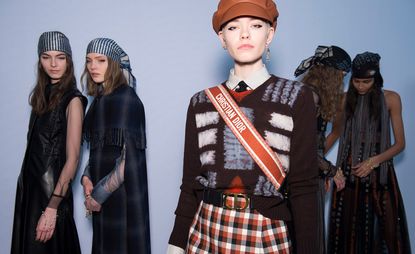 (Image credit: Jason Lloyd-Evans)
Team work: Swapping its usual venue at the Musée Rodin for a pavilion in the Tuileries garden, Dior preceded its latest collection with a set design with a message. Teaming up with the anonymous Italian female collective Claire Fontaine, Maria Grazia Chiuri envisioned a panoply of neon-coloured flashing signs. Decontextualised words like 'when women strike, the world stops',
'women's love is unpaid labour', 'patriarchy = climate emergency' and 'consent.consent.consent', even though they seemed extracted from today's newspaper, were in fact inspired by Italian second-wave feminists Carla Lonzi and Silvia Federici. And yet, as a backdrop for Dior's latest offering - and for countless influencer and celebrity pictures - they became unquestionably a sign of our times, particuarly prominent that the show was held a day after Harvey Weinstein's sexual assault conviction.

Moodboard: 'The 70's gave me the attitude I have', Chiuri said backstage. This season, the designer got to thinking about the experiences that have shaped her into the woman she is now. That involved a lot of soul searching, but also actual searching through her own 1970's diaries and old photos of her mother. The resulting findings were sartorially translated, and mixed with Dior's classic codes, with results including a repurposed Bar jacket - this time double-breasted, more fitted around the hips and paired with masculine trousers and a shirt and tie - checked ensembles inspired by Marc Bohan, and slouchy, ultra-comfortable looking pleated trousers. Fringes - one of the season's strongest trends yet - were also a recurring theme, bringing a new sense of movement and bohemia to the timeless evening dresses at the end of the show.

Finishing touches: If Dior monogram bags started selling like hotcakes the minute Chiuri arrived at the Maison, it's not hard to see why: they are recognisable, feel both modern and classic and they go with everything, including most of the show's looks. The Dior motif was spread over XL tote bags, mini purses and practical cross-body bags. But two new accessories also made their appearance: ties have been having a revival lately since Hedi Slimane co-opted them for Celine, and Dior's catwalk undoubtedly contributed to their trendification. Silk headscarves were also omnipresent, making us wonder how such a fantastic accessory could have been forgotten for so long. Hopefully we'll be seeing more of them in the streets next autumn.