Balenciaga A/W 2020 Paris Fashion Week Women's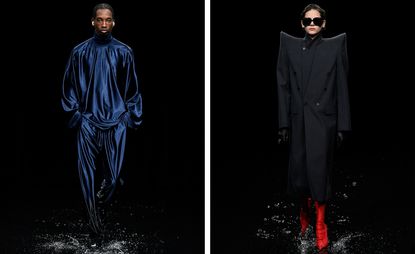 (Image credit: press)
Mood board: Guests entered a dark apocalyptic space inside Luc Besson's Cité du Cinema building in the suburbs of St Denis, with its first two rows of stadium seating completely submerged in a liquid inspired by petrol. As the show began, models forcefully sloshed through the drowning catwalk, as huge projections above zapped images of frothing oceans, raging flames and birds in frantic flight, soundtracked to frenetic classical music and pounding techno. Backstage, creative director Demna Gvaslia divulged that his set wasn't intended as a nod to our climate crisis or a universal sense of impending doom, but in a season dominated by sustainability and Coronavirus, it was impossible not to get a sense of the end of the world as we know it.

Mood board: Gvaslia explained this was his most personal collection yet – he'd spent hours pouring over his sewing machine during his research process. Rendered largely in black, the offering has a monastic, clerical air – long smocks in black velvet, habit-like hooded coats, sacramental jackets – amalgamated with peak shouldered tailoring, motorcross uniforms, and even a series of neon 'BL' logo football strips. The monochromatic focus was also a nod to Cristóbal Balenciaga, who was famously obsessed with the hue.

Finishing touches: Tech-focused accessories have been a utilitarian hit on the A/W 2020 catwalks (Fendi, Prada and Givenchy all offered up elegant AirPod holders). At Balenciaga, Gvaslia twisted ubiquitous white iPhone leads into hair ties.